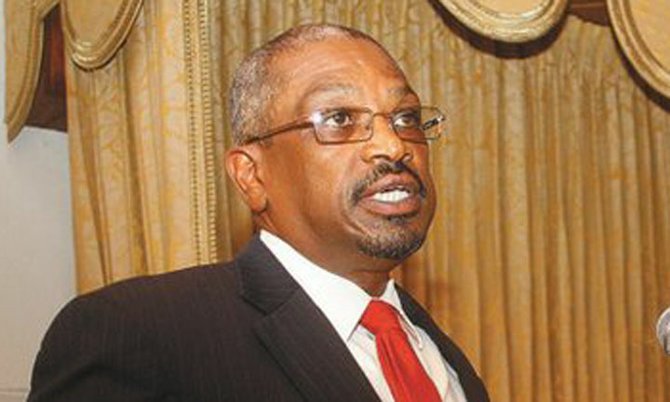 By KHRISNA VIRGIL
Tribune Staff Reporter
kvirgil@tribunemedia.net
FNM leader Dr Hubert Minnis says he is not concerned with losing his political post, set to be hotly contested in the lead up to the party's convention.
While Dr Minnis said yesterday that he had no idea when the FNM will hold elections for key positions, including leader, deputy leader, chairman and treasurer, he said his main concern at this point was to ensure that the country was headed in the right direction.
Speculation concerning challenges within the party were reignited last week following Deputy Chairman Dr Duane Sands' announcement that he was considering challenging Dr Minnis as leader.
He said that despite Dr Sand's declaration, there was "zero" tension between them.
"My concern is the direction of the country," Dr Minnis said. "My concern is trying to get the young people off the unemployment list and trying to create jobs for them. My concern is trying to create jobs for our female population.
"And (trying to take care of this) environment where we have 67 per cent single parents. I myself am coming from a similar situation. So obviously I am more concerned about that having experienced it.
"The FNM has no problem. I am sure more will (throw their hats into the race). That is democracy."
Dr Sands said on Thursday that he was "definitely considering" offering himself to challenge the FNM's top position. He said that while a final decision had not been made, he was compelled to be an active part in the solution to the challenges facing the country.
However, the bold step forward led FNM insiders to criticise Dr Sands. They branded him a failed candidate because he was not successful in winning the Elizabeth constituency by-election in which he was challenged by current MP Ryan Pinder.
"We ought to have been winning that seat by hundreds. How can you then put yourself up as leader when you lost after the government threw its entire set of resources around you?"
In a completely different tone, FNM Chairman Darron Cash, welcomed anyone interested in entering the race.
"I don't see it as division," he said. "I think as a vibrant political party that is well known for robust leadership and debate, in the period before we become government, the FNM is used to strong personalities seeking to break through the clutter.
"Several days ago when asked about running, no one had indicated any interest or indicated they were thinking about running. I am glad Dr Sands has stated his interest. In the future, members and leaders of the party will be looking forward to hearing his views in terms of what he can do differently from the current leader. That would be a meaningful conversation."
"Anybody else who is interested in being party leader ought to come forward and say so."
While Mr Cash did not expect a number of others to come forward, Dr Minnis was certain that a considerable number of candidates will present themselves.