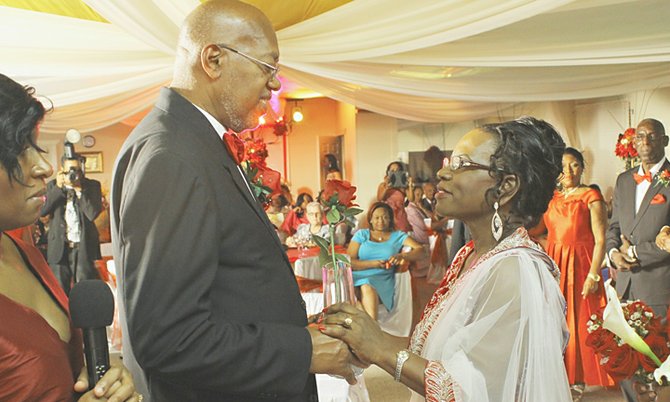 By JEFFARAH GIBSON
Tribune Features Writer
jgibson@tribunemedia.net
FORTY YEARS of marriage has been a time of testing, trial, love, bliss and development for Rev Eugene and Dr Rosetta Clare. The couple is looking forward to 40 more years of writing their love story.
In the lead up to Valentine's Day, Tribune Woman spoke to the couple who shared insights into how they met, and how they have kept their marriage alive.
Rosetta and Eugene were among several people honoured during a special ceremony for couples who were married in the year of Bahamian independence. Grace Community Church in conjunction with Rex Major Associated staged the ceremony in Rawson Square.
Eugene and Rosetta are marriage counsellors and founders of the Rhema International Family and Development Centre. In June the couple will celebrate 41 years of marriage, Rosetta said.
As former members of a youth organisation, the devote Christians met and grew strongly feelings for one another. After returning home from school in New York, Eugene prayed about finding the right partner. He was led to pay Rosetta a visit one day and from that point on the two became inseparable.

"Back in the day when you wanted to date a boy, you had to take him home to your parents. We were both in our early twenties at the time. You didn't just a meet a boy and go out with him. You had to allow your parents to meet him and he told my dad he was interested in me. So my dad gave him the approval and things went on from there.
"I remember we went to a restaurant on East Street for the first time and at the end of the dinner he asked me for my number. I gave him my number and he would call me from that time on. When he took me home after our date I thought he was going to give me a kiss on my cheek, but instead he shook my hand. So I said to myself that was a very decent young man. It was at that point when I knew he was a very respectable man," she said.
Rosetta said Eugene always exhibited respect for women and was always very meek. "That was what attracted me to him," she said.
"Apart from her good personality and physical traits she was a committed Christian at that time. There was a time when we were a part of a youth group, I was praying and asking God for a mate. I went to see her and I knew that I was interested in her," he said.
After dating for sometime, Eugene believed he had found the woman he prayed to God about. He wasted no time in asking Rosetta for her hand in marriage.
In June of 1973, the couple married and embarked on a life-long journey. No amount of counselling or advice could fully prepare one for the journey, they said.
For Eugene, the first few years of marriage were the most challenging as they were both adjusting to their new life together.
"The first year you have your tests and trials, because you are making adjustments in your own mind. The commitment of the covenant 'until do us part', has to be first and foremost in a person's mind to keep them when those difficult times come.
"You are going to be tested and tried, and all of that comes to test the strength of your relationship and to develop you. Like any other married couple we thought about leaving at times. You have your little arguments and you hurt one another, but the commitment that we made to not only each other but to God was what kept us during the time. We have forged a foundation that we can build on that keeps us steady. It makes sense of our relationship. There will be testing, but you will see that what you have is far above the things you experience," he said.
Intimacy plays an important role in any marriage. He said intimacy makes the bond and union strong.
"It helps bind; it helps relieve stress in all different levels. You cannot have a marriage relationship without intimacy. As you get older things change a bit, but you learn to develop and make the changes that are necessary because you won't be that young fella all the time or that young woman all the time. There are physical changes that age brings on, so you cannot play young or else it would tell you 'you aint'. It helps you to overcome a lot of hurdles because after dealing with issues you top it all off with a nice intimate time. That is extremely important," he said.
Maintaining a marriage for 40 years is not easy, yet it is doable once couples learn how to love and respect each other wholeheartedly. This has been at the core of their marriage, Rosetta told Tribune Woman.
"I think the basic thing to maintaining your marriage is having respect and honouring each other. I think if we do that, that would be a major help in the primary years, because the primary years are the most difficult times and you are getting to learn each other and know each other.
"Courting really does not make you know the person. Dating you see a few things, but like the saying goes to live with me is to know me. There is a lot of disrespect going on in family's today. A lot of couples talk down to each other, say a lot of insulting things to each other. And that happens because they did not get the proper counselling before they got married and also once the wedding was over they stopped the counselling. When I marry a couple, I counsel them throughout, and I tell them if they have a problem the lawyer should not be the first person you come to. It should be me. But there has to be that area of compromise and respect for one another," she said.