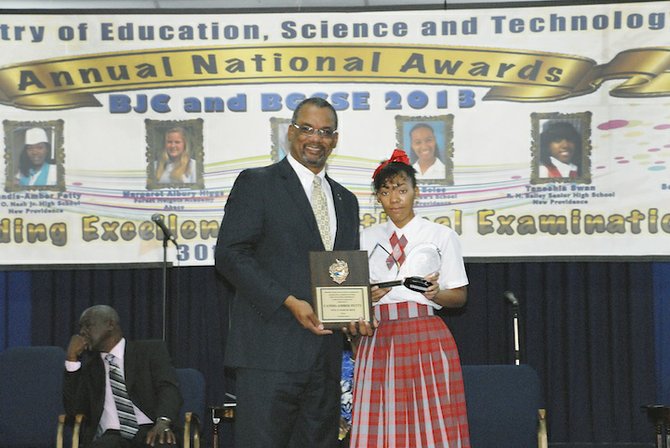 MORE than 200 outstanding students were recognised with gifts of plaques, trophies and cheques for their achievements in the Bahamas General Certificate of Secondary Education (BGCSE) and Bahamas Junior Certificate (BJC) during the Ministry of Education's annual National Awards ceremony.
Gia Soles, Taneshia Swan, Stephen Saunders, Margaret Albury-Higgs, Dana Knowles and Candis-Amber Petty topped the list of students who earned highest scores in the 2013 BGCSE and BJC exams.
Soles, a graduate of St Andrew's School, outranked high school students with 10 As to win the Paul Adderley Award for the candidate with Best BGCSE Overall Performance in The Bahamas and the Carol Hanna Award for Best BGCSE Overall Performance in independent schools.
She is presently attending Li Po Chun United World College of Hong Kong.
Swan, a student of RM Bailey Senior High School earned eight As and one B to win the Majorie Davis award for Best BGCSE 2013 Overall Performance in government schools. She is presently studying accounting at the College of The Bahamas.
Knowles and Petty are the government school candidates with the Best BJC Overall Results. Knowles, a student of NGM Major High School, Long Island, received eight As and Petty, a student of HO Nash High School also received eight As.
Higgs, Knowles and Petty were awarded as candidates with the overall Best BJC Results in The Bahamas. Higgs, of Forest Heights, Abaco, is the 2013 independent school candidate with the Best BJC Overall Results.
Stephen Saunders of SC McPherson Jr High School earned seven As and one B to win the award for the Government School Male Candidate with the overall Best 2013 BJC Results.
School administrators, teachers, students and parents attended the ceremony held at William Johnson Auditorium, Church of God Convention Centre.
Government officials present included Nicole Campbell, permanent secretary; Lionel Sands, director, Dressler Sherman and Joel Lewis, district superintendents. Music was provided by the Doris Johnson High Concert Band and SC McPherson Junior High School Choir.
In his address, Education Minister Jerome Fitzgerald said it was the Government's mission to ensure that all children exercise their "irrefutable right" to an education.
He said all citizens should become more involved in the education of young people. He called on organisations, businesses and parents to instil education as a priority.
For the first time in the history of the BGCSE, the individual with the Best Overall BGCSE Performance was presented the Paul L Adderley Best Overall BGCSE Performance Award for Academic Excellence.
The ministers aid: "All who knew Mr Adderley knew that he stood for excellence and standards and had little tolerance for mediocrity.
"As Minister of Education, Mr Adderley also achieved notable successes. He introduced initiatives aimed at raising academic standards in the public school system. He restricted social promotion exercises and instituted the BGCSE examination.
"Twenty years later, these students present and thousands others before them are testimony of the wisdom and success of the BGCSE."
He congratulated Soles for her success and for living up to the high ideals that Mr Adderley cherished.