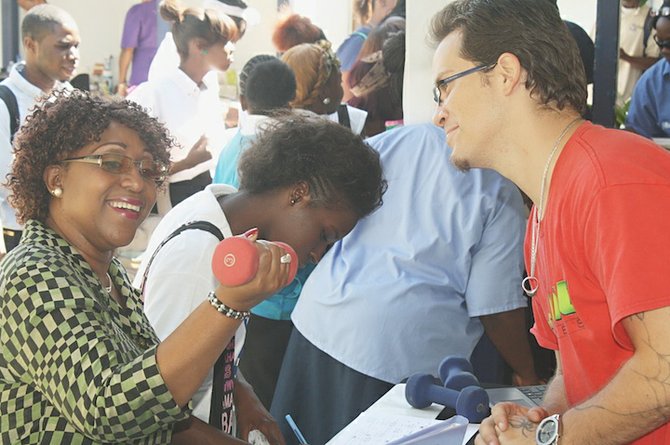 BEAUTY, health and fitness were the focus as more than 20 exhibitors joined in The Bahamas Technical and Vocational Institute's (BTVI) Wellness Fair.

The Soldier Road campus was abuzz with excitement as students, staff, faculty and the general public flocked to eager participants who were armed with information and samples, ready to demonstrate their skills.

It was an effort led by the Student Affairs Department to encourage the BTVI family and the public to make healthy choices.

On hand to welcome exhibitors and attendees was BTVI's Manager and Consultant, Dr Iva Dahl.

"This fair addresses the whole person," she said.
"Take the time to invest in a healthy lifestyle because when you do so, you spend less time at the doctor."
Racquel Bethel, coordinator of Student Affairs, said: "We provide technical education, but we also want to equip them with the necessary tools to embrace daily wellness."
The fair was well attended and offered free blood pressure screening, wellness and community resource information, entertainment, demonstrations, giveaways and healthy snacks.
Gio Cooper, owner and chef of Da' Bahamian Vegan, considered his company's participation not only a good opportunity to promote vegan food but the healthy lifestyle concept.

"We want people to eat healthy; it doesn't have to be a vegan lifestyle. We want people to rethink their eating habits," said the 28-year-old.
Another exhibitor was Dr Alvira Higgs, naturopathic specialist and founder of the Healthy Lifestyle Center. She said education is key to healthy living and applauded BTVI for its efforts.
She said: "Young people need this. They need to know from their youth and then they would go into adulthood making healthier decisions. I became a vegetarian 42 years ago. That was the last time I had animal products. I make everything from scratch, including oat burgers."
Keithera Ferguson, who completed BTVI in December 2013, said the information she obtained during the wellness fair was invaluable.

"I had some fever grass tea. It helps to flush out toxins. Also, the nutritional information was really educational and I'm now even considering getting a cleanse," said the 22-year-old.
Ivan Thompson, a member of the public, said it fell in line with one of his goals for 2014. "I just did my first colonoscopy therapy. I don't want to be a statistic. I'm also drinking a gallon of water per day. I had oats for breakfast this morning and will be having barley for lunch. As you know, the health of the nation is the wealth of the nation. This year, I have made a conscious decision to practise healthy living," he said.