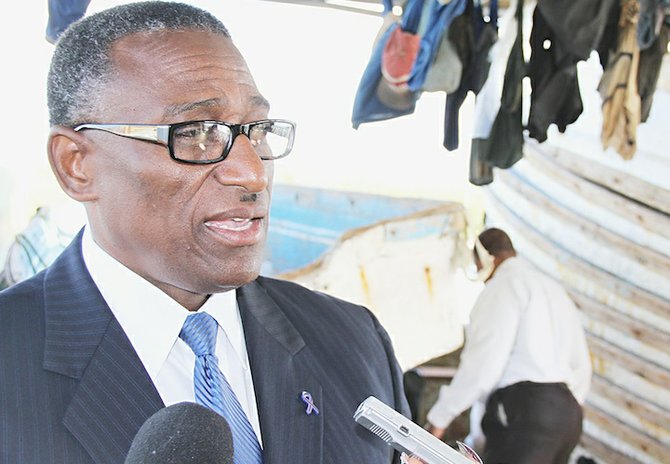 By KHRISNA VIRGIL
Tribune Staff Reporter
kvirgil@tribunemedia.net
DOMINICAN poachers on board three boats eluded Royal Bahamas Defence Force officers who were virtually handicapped as only four of their vessels were in operation, according to Agriculture and Marine Resources Minister V Alfred Gray yesterday.
While touring the Dominican boat confiscated on Saturday at the Coral Harbour Defence Force base, Mr Gray said officials were able to apprehend one of the vessels because only one RBDF craft could report to waters off Andros. Forty illegal fishermen had thrown their cages in the area and were reported to authorities.
The group and their vessel were taken into custody a short time later.
From that one boat alone, officials confiscated 9,000 lbs of mixed fish, 1,291 lbs of Margaret fish, 185 lbs of Nassau Grouper, 1,257 lbs of Hog Fish, 334 lbs of Conch and 22,000 lbs of Crawfish. Authorities said 8,000 lbs were undersized.
"We have 100,000 miles of water and four working vessels," said Mr Gray. "So you know we have the daunting task of patrolling the waters of our country.
"Three of them got away because there was only one boat to make an arrest and, of course, you can only arrest one boat at a time. So the other three were able to make good their escape. If I were able to use the figures which I gave as an example of what was on these boats, you can see that we have lost a whole lot of fisheries for them to turn over to the Dominican fisheries department.
"The government is very serious about its efforts of stamping out this problem."
To patrol the country's waters, Mr Gray said the government has already ordered nine vessels which are expected to put a dent in the occurrence of poaching.
Mr Gray added that the government hoped talks with the Dominican government would result in the a significant decrease of illegal fishing, but so far there has been no result with several incidents in just weeks.
"Let me say that we have been talking to the Dominican Republic's government. We are in the process of concluding a Memorandum of Understanding between the two governments where they have committed to having their vessels outfitted with GPS systems. So that whenever those vessels leave their port and are sufficiently distanced enough they as a government would be able to track them and do what they need to do before they venture into Bahamian territory.
"So I'm just hopeful that together the government of the Dominican Republic, which seems to be our greatest culprits concerning the Dominican fishing boats, seems to have no sense of what we are trying to do.
"I do not believe that the Dominican government has been passing on the information that we pass on to them to their fishermen. Because if they were doing it, I believe things might have been better."
Mr Gray told reporters that he is pushing for longer prison sentences in addition to fines and confiscation of vessels.