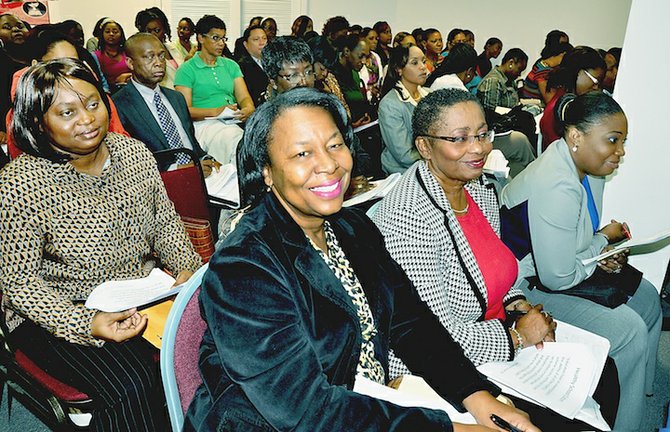 MORE than 160 educators from New Providence, Grand Bahama, Abaco, Andros and Exuma attended the third annual 'Yes to Education' conference under the theme: "Strengthening Student Engagement: Strategies that Work".
Director of Education, Lionel Sands, brought remarks during the opening ceremony.
Mr Sands applauded the work of the Director of the 'Yes to Education Foundation' Makia Gibson and his team for hosting the conference to offer educators current, relevant strategies to engage and re-engage students.
He said: "It is imperative that an agenda of excellence and best practices be upheld in education. One way to ensure that our students are engaged is to facilitate constant re-education and re-training of teachers".
He encouraged the educators to cultivate an environment for their students that fosters understanding, self-expression and involvement with others.

Guest speakers for the conference included Dr Anthony Muhammad, Director of New Frontier 21 Consulting in Detroit, Michigan; Rhonda Polisuk, Principal of the Blue Willow Public School in Woodbridge, Ontario, Canada and Dyontalee Turnquest-Rolle a teacher and maths coordinator at Oakes Field Primary School.
Dr Anthony Muhammad addressed School Culture in his presentation.
He said schools are the lifeblood of every community and the cohesion of the adults or professionals is very important.
"Some schools have the right tools, but if they do not have the right human environment it becomes difficult to take advantage of those tools. The 'Yes to Education' movement is very instrumental in exposing educators in the Bahamas to topnotch educators who can provide information about current trends in literacy, numeracy and intervention skills", said Dr Muhammad. He said The Bahamas has the opportunity to be a world force by translating education into opportunities.

Rhonda Polisuk presented on the topic, "Building a Balanced Literacy Program in the Primary Grades".
Mrs Polisuk said a balanced literacy, specifically teaching reading comprehension, helps students to read better and more deeply understand text, build upon their skills and achieve higher results.
Building professional capacity for teachers, administrators and directors of education is important because all parties need to work together to improve collective understanding and deepen knowledge about improving student learning through best classroom practices, she said.
"First Things First: Establishing Strong Number Concepts in the Primary Grades (Kindergarten – Grade 3)" was the topic addressed by Dyontalee Turnquest-Rolle.
Mrs Turnquest-Rolle said it was important for students to understand number concepts early in their schooling so that later on in life mathematics can be easier for them.
She said: "We do not want them to see mathematics as a chore. We want to foster attitudes of excitement for mathematics and a love of the subject".
She said the 'Yes to Education Conference' allows educators the opportunity to pursue professional development, which should be continuous because education is forever changing, even though the core remains the same.
"Our students are twenty-first century learners. We have to teach them how to stand out in a crowd and present themselves as marketable", said Mrs Turnquest-Rolle.
This year is the first time that the organisers focused the 'Yes to Education' conference exclusively on primary education and developed a programme to meet the specific needs of teachers from pre-school through grade six.