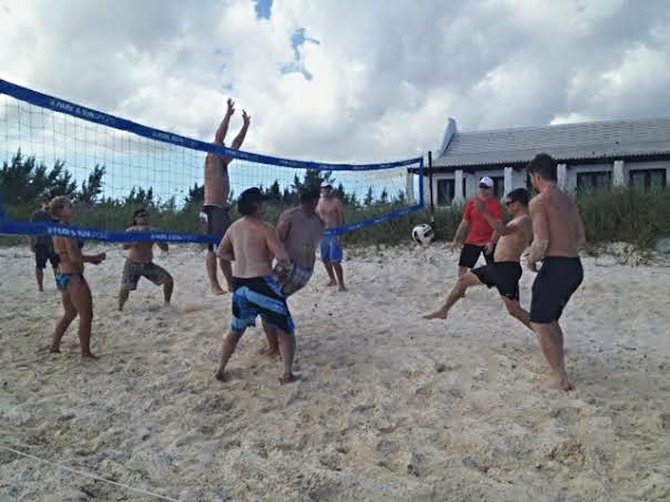 THE Bahamas, and Grand Isle Resort & Spa in Great Exuma, shared an unusual world first last week when professional hockey players, Olympians and hotel guests faced off in a road hockey game on the tiny island of Farmer's Cay.
As part of the resort event 'Sochi Under the Sun', running from February 9 to 23, the group landed on the island to find sticks, nets, hockey pads and a field set up on the air strip.
The 60-acre land, with a population of just 27 Bahamians, became the site of a rousing and competitive hockey match. The island's ten schoolchildren also came out to watch the game and even received a few hockey lessons.
The game VIPs included Canadian Olympic athletes Simon Whitfield, Blythe Hartley, Emilie Heymans and Allain Roy, as well as Zack Smith, Eric Gryba, Cody Eakin and Dennis Polonich, from the National Hockey League (NHL).
The spectacle went smoothly despite the occasional aircraft landing on the Farmer's Cay airstrip, forcing players to yell "plane" and remove the nets.
"We were so pleased to invite and entertain such an amazing group of people," said Peter Nicholson, an owner at Grand Isle. "Events like 'Sochi Under the Sun' help expose incredible Exuma to the world, and we look forward to bringing these athletes back on an annual basis."
It was a tight and spirited game between Team Blue and Team White going into the third period tied 3-3. Team Blue blew the game wide open with just five minutes left, going up 4-3. They never looked back, and the game ended 5-3.
One day later, the property hosted a "mini-Olympics" on the beach at Emerald Bay. Olympians and NHL players led a series of events, such as a 9am jog, beach volleyball and swimming.
'Sochi Under the Sun' comes to an end on February 22 when Grand Isle Resort & Spa hosts its Dinner of Champions. Deputy Prime Minister Philip 'Brave' Davis, Director of Sports Tim Munnings and Bahamian gold medallist Ramon Miller are expected.