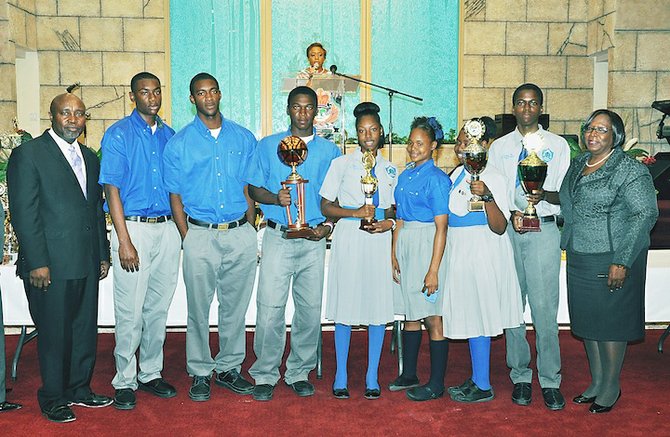 INDEFINITE suspensions will be eradicated in public schools, according to Director of Education Lionel Sands.
"We are discovering that too many students are being suspended for frivolous infractions…this is unacceptable," said Mr Sands at the 12th Northwestern District Thanksgiving Awards and Recognition Ceremony.
Mr Sands told students, teachers, education officials and parents gathered at the event, held at Living Waters Kingdom Ministries, that many students are succeeding but a minority are being left behind.
He said: "No child is disposal in the pursuit of excellence in education."
Director Sands said his words were inspired by the success he saw in the room and his belief that every child should be given the opportunity to fulfil their purpose.


The "no child is disposal" theme he announced will be the Ministry of Education's national theme for the 2014/2015 school year.
Darren Turnquest, keynote speaker and Director of Youth in the Ministry of Youth, told teachers their job was to motivate [students] and the parents' job was to participate in their children's education.
He told the students they must be accountable for their actions and realise that bad decisions have consequences.

He advised students: "Have a positive attitude, brand yourself as priceless and remember popularity doesn't matter".
During the ceremony, Shirley Barr, former principal of Naomi Blatch Primary School, was honoured for 51 years of service in education.

Deborah Coleby, a former vice principal at Woodcock Primary School and Wilfred Butler, former Senior Master at CC Sweeting Senior High were recognised for their service to the district.
Community Activist, Pastor Sharon Nairn, was saluted for her philanthropy in the district schools.

Pastor Nairn counselled students, organised a breakfast programme, and supported students in shacks during their Junior Junkanoo preparations.
Awards were also presented to fourteen past and current students, recognised for having the highest grade point average in their respective schools during the 2012/2013 school year.
They included: Tyrone Woods, Naomi Blatch Pre –School; Korey Christie and Thalia Cartwright, Willard Patton Pre-School; Chardonay Garrick (3.70), Albury Sayle Primary; Destiny Smith (3.44), Gambier Primary; Mandria Brown (3.46), Mable Walker Primary; Jada Culmer (4.00), Oakes Field Primary; Shavanti Farrington(3.55), Stephen Dillet Primary; Yolanda Erhabor (3.64); T. G. Glover Primary; Alda Arne (3.50), Woodcock Primary; Phlesea McPhee (3.60), H.O. Nash Primary; Shantinique, Miller (3.60); T. A. Thompson; Randy Roberts (3.30), C. C. Sweeting Senior High; Beautisca King (3.80); Janoah Saunders (3.55), Centre for the Deaf and Tarvis Cooper (3.55), Stapledon School.
Students who received awards in the Extra Curricular Activities Category included:
Travis Robinson; CR Walker Sr High; Junior Minister of Tourism.
Aradhana Gilbert; CR Walker Sr High; Laws of Life Essay.
Laquann Nairn, CR Walker Sr High; Carifta Games Gold and Silver Medallist.
Brackiel Henry, TA Thompson Jr High; District Spelling Bee Champion/ 3rd Place Winner in the Bahamas National Spelling Bee.
Sydney Clarke; HO Nash Jr High; Junior National Tennis Champion.
Trovonya Thompson; HO Nash Jr High; Arts and Drama – National Arts Festival.
Saquan Miller; Carifta Bronze Medallist, Water Polo.
CC Sweeting Sr High was highlighted for its 2nd Place Outstanding Performance by a government school in career & technical education and having the most improved GPA in government schools in the BJC Exams.
Some of the outstanding national examination results in the district included Candis – Amber Petty of HO Nash Jr High who was praised for earning 8 As and the 2013 Best BJC Overall Results title; CR Walker students, Oneisa Lundy achieved 7 As and 1 C and Lheintz Vincent 5 As 2 Bs and 1C respectively.
In the Innovation in Schools Category, all 14 schools in the district were recognised for introducing a new programme which enhanced its teaching and learning programmes.

These awards included: The Centre for the Deaf for mainstreaming two students at
HO Nash Junior High School who are preparing to sit the BJC Examination in June 2014; Naomi Blatch Pre-School for its Thematic Approaching to Learning; Stapledon School for its Agriculture and Beauty Programmes and Albury Sayle for its Focus on Literacy.
In sports, CC Sweeting Senior High School received its award for being Hugh Campbell Basketball Champions and CR Walker for being the GSSSA Boys Basketball Champions.
The two most coveted prizes for overall performances in the district: The Harriet Pratt Quality School Award and the Valderine Rumur Award for Academic Excellence went to Oakes Field Primary School.
The school has won these awards five years consecutive.