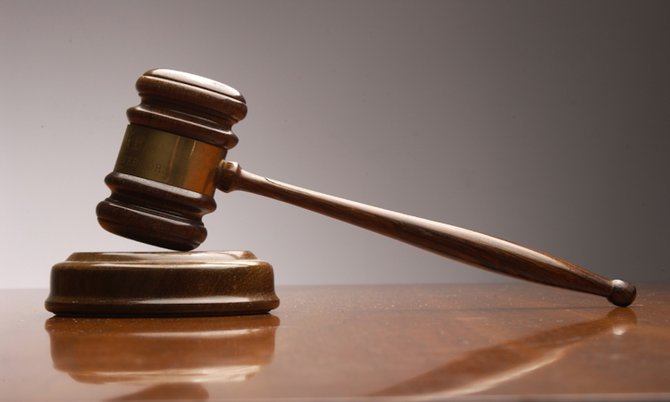 By LAMECH JOHNSON
Tribune Staff Reporter
ljohnson@tribunemedia.net
POLICE threatened two men with death if they did not "co-operate" and confess to the shooting of a senior police officer, a jury heard yesterday.
This was the explanation of both Excel Josey and Maurice Armbrister as to how they gave written statements and video-taped interviews admitting to the late night attack on Supt Clayton Fernander outside his home moments after he pulled into his St Vincent Road driveway.
Both Armbrister, 23, of Faith Gardens and Josey, 21, of Balls Alley, face a charge of attempted armed robbery and attempted murder relating to the April 10, 2013, incident.
Armbrister was further charged with possession of an unlicensed firearm and ammunition – a black and silver Smith and Wesson .45 pistol with 29 .45 bullets.
It is claimed that on the day in question the men attempted to kill Supt Fernander. It is also claimed that they tried to rob him while armed with a handgun.
Supt Fernander was shot multiple times in the arm and upper body when two masked, armed men confronted him shortly after he pulled up to his home.
Supt Fernander was armed at the time, but was not able to return fire.
Yesterday, Josey opted to take the witness stand and give sworn testimony.
Mr Mangra asked his client if he, having heard the numerous police witnesses testify, committed the offences.
Josey said: "No, sir."
Josey said he was arrested in a doctor's office during a medical examination on April 12. He said he was taken to the Wulff Road police station before being transported to the Central Detective Unit. He was escorted to a general waiting area where a number of policemen were present.
"They was telling me they was going to kill me if I didn't tell them what they wanted to hear," the jury heard from Josey, who then claimed he was slapped by Inspector Demeritte, punched in the stomach by Inspector Hart and in the side by officers he was unable to name.
Josey said that Inspector Hart told him he was going to do an interview but before that, he would have to recall a story they would give to him to say in the record of interview.
"Did they ask you if you wanted a lawyer?" Mr Mangra asked. Josey said he wasn't allowed access to his attorney even though he informed them of one.
"How did you feel at that time?" Mr Mangra asked.
"I was scared. They say I was arrested for something I didn't do and threatened to kill me for no reason," Josey said.
The defendant claimed that officers said he would go from CDU without being charged if he co-operated.
The jury had a number of questions for the first defendant that were similar to the cross-examination of prosecutor Neil Braithwaite.
The jury's questions were put to Josey by Justice Bethell. He was asked if he was at Bamboo Shack on the night in question. He said no.
He was also asked why he signed the record of interview and caution statement if he didn't understand the contents.
"I could understand certain parts of it and some I couldn't understand," he answered.
"Why would you sign a confession you did not know about?" the jury asked.
"I was threatened," Josey claimed.
Maurice Armbrister took the witness stand next and was questioned by his attorney, Wayne Munroe.
Mr Munroe first asked his client if he committed the offences he was accused of doing.
"No, sir," Armbrister answered.
The attorney then asked about the day of his arrest by police and Ambrister told the court that he was at a window when he noticed several men in plain clothes approaching his home armed with firearms.
"It was about 1 o'clock in the afternoon. I was standing by my window and saw a bunch of plain-clothed gentlemen with a bunch of firearms. So I break off running," the court heard.
He said he ran outside, was pursued and fired at until he heard someone say "police", which compelled him to stop.
"I turned around and put my hands up," he said, adding that he was then pushed to the ground by ASP Cash and was told that he would be killed for shooting "his boss".
He said he was brought back near his house by the policeman, pushed down in the road and stomped upon by the various officers before being pushed inside a police vehicle and taken to a home he'd never seen before.
"Do you know the persons who lived at that address, a Shena Taylor?" Munroe asked.
"No, sir," Armbrister answered, who said that officers brought a suitcase from the house and placed it in the police vehicle and then drove him to the Carmichael Road police station to be booked in.
"They then carried me to CDU. When we arrived at CDU, ASP Cash gave my detention record to the front desk. When I reach inside there, Inspecto Hart, Sgt Johnson, Officer Newbold and Inspector Demeritte were there," he said.
"Hart asked me how I could shoot his boss," the jury heard from Armbrister.
He said he was physically assaulted by the officers who threatened to kill him if he didn't co-operate and "confess". The accused said, at one point, he feigned being unconscious from a punch only to be kicked repeatedly in his ribs.
Having had enough of the beating, Armbrister said he told them he would do what they said and claimed officers "prepped" him on what to say prior to a record of interview being taken.
He then said that he made certain gestures with his hand so that relatives or his attorney would know that the confession was not voluntary and that he was threatened.
Armbrister said that he was fingerprinted. However, he said he was never shown a cellphone, which it is claimed belonged to him, that was dropped on the scene of the crime.
In cross-examination, prosecutor Braithwaite asked the defendant where he was on the night in question.
"At home," Armbrister answered.
"All evening?" the prosecutor asked. The accused said: "Yes, sir."
The prosecutor asked him if he knew his co-accused. Armbrister said he known him for some time before Josey had moved abroad but they did not interact afterwards.
"You have a Facebook account?" the prosecutor asked.
"No sir, Facebook is the devil," Armbrister answered.
Referring to the claimed brutality he suffered at the hands of police, the prosecutor asked him how many times he was punched in the head.
Armbrister said he wasn't counting.
"How many times they told this story to you for you to remember?" the prosecutor then asked. Armbrister said he could only remember being told once and that he was told his story didn't have to be verbatim, just similar.
"All of this while you were in pain?" the prosecutor asked.
"Yes, sir," the accused answered.
"You signed the statement?" the prosecutor asked. Amrbrister said he did.
"What is in the statement is true and correct?" the prosecutor asked.
"I don't know," the accused answered. The prosecutor replied that he should know if he signed the statement.
"You never told police about the gun either, right?" the prosecutor asked.
"No, sir," Armbrister answered.
The prosecutor suggested to the accused that he was lying about being threatened and that he voluntarily admitted to the crimes.
Armbrister denied both suggestions.