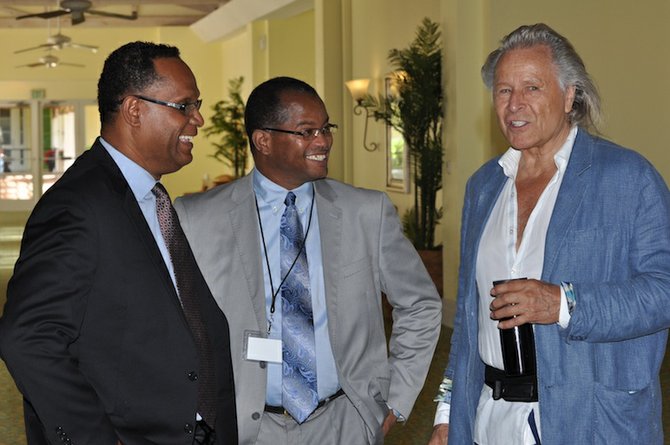 BY DENISE MAYCOCK
Tribune Freeport Reporter
dmaycock@tribunemedia.net
BILLIONAIRE fashion designer and Bahamas resident Peter Nygard says he is getting younger - after he reversed the ageing process using stem cells.
Mr Nygard was in Freeport yesterday attending the STEMSO Conference.


He told The Big T: "Stem cells are being used for anti-ageing and the University of Miami is doing a study about that to prove that it is true. They are looking at me, and my markers have shown exactly that I have been actually reversing my ageing and getting younger."
Mr Nygard's visit came eight months after his first trip to Grand Bahama, and he arrived unexpectedly at the convention centre in the Grand Lucaya Resort around 11am with his small personal media entourage.
A number of leading medical professionals and scientists are here attending the conference, which opened on Thursday.
In contrast to his fanfare visit here last July, Mr Nygard, accompanied by a small camera crew and personal assistants, quietly entered the conference room and sat at the back. He was wearing his usual signature white shirt and blazer.
Mr Nygard, a resident of Lyford Cay, has been pushing for stem cell research and therapy in the Bahamas.

He believes that the STEMSO conference in Freeport is an excellent start towards the road of international recognition for the Bahamas in stem cell research.



During an interview with The Big T, he said: "I am so very pleased that this was organised and put together. This an excellent start to international recognition for this country as being the centre of the world for stem cell therapy and research - it's a good kick off."
When asked about his plans concerning stem cell research, he said: "Yes, we have plans; they're pretty big plans and they sometimes take a long time to develop.
"I am personally very committed to this agenda as you may know. I have been here from the start of it and I am here now to lend support in whatever way I can to this whole industry.
"I am very anxious to get the Bahamas to be the medical centre of the world for stem cells and whatever I can do in that regard, I am going to do."
Mr Nygard has been taking stem cell treatments for several years. His treatments, he said, are for anti-ageing.
"I am taking perhaps more stem cell treatment than anybody else in the world. I have been doing it for four years now, so I am sort of a testimonial that this stem cell really works."
Mr Nygard commended Prime Minister Perry Christie and his government for implementing and passing legislation for stem cell research and therapy in the Bahamas.

"The PM has done an excellent job; he has been very visionary about it. They pushed a very difficult legislation through, and I think the significance of it is that he wants to protect the whole industry from snake oil people," he said.
He said the legislation is very important because it will keep all those who do not qualify out.
"The legislation will guarantee that only the very top people come in here. And when you get the top scientists and top medical doctors here, then top clients and patients will come here as well," he said.