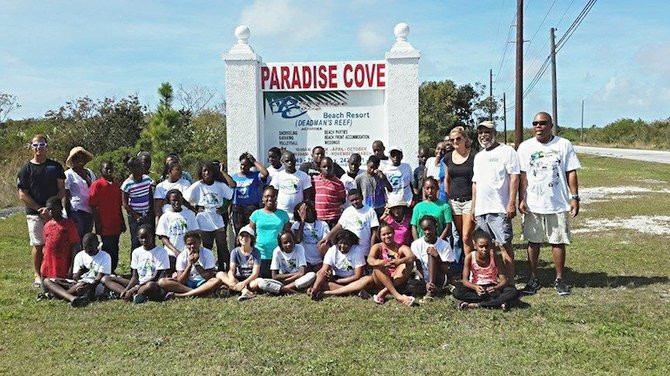 YOUTH Environment Ambassadors have been working with activist groups to better understand the risk of habitat destruction.
On Saturday, the EARTHCARE/Save the Bays Saturday Environmental Education Programme continued with the largest group of young ambassadors yet.

The bus loaded up early and the youngsters headed to the day's destination - Paradise Cove Beach Resort at Deadman's Reef, in Grand Bahama.

Gail Woon, founder of EARTHCARE and a director of Save the Bays, gave the students a presentation on habitat destruction, complete with examples from several Family Islands.
She said: "Habitat destruction is one of the five issues dealt with for Coastal Awareness.

"Sadly, we have examples of unsustainable habitat destruction on many of our islands. We have areas where our coral reefs have suffered the effects of man-made problems of nutrient pollution from land-based sources and are under threat of further destruction by unsustainable development, Caribbean pine forests that have been bulldozed for megaprojects that never materialised, extensive, valuable, healthy mangrove forests that have been destroyed for resort developments and precious blue holes that have been polluted and in some cases obliterated for various reasons.


"We were able to show the participants in pictures various examples of habitat destruction from Bimini, Abaco and Grand Bahama.
"Further, we were able to illustrate solutions that are available to our Youth Environment Ambassadors empowering them to be proactive about their future and the future for their Grandchildren."
Michael Headberg and Dr Catherine Jadot, both from the Reef Ball Foundation, explained how reef balls work and answered questions.

Reef balls are used to increase biomass and biodiversity. These are designed artificial reef units. Currently, there are more than 632,000 of these deployed in over 62 different countries.
Reef balls help restore our natural reef systems; they protect our shoreline during storm events and help to nourish the direct marine environment.

Opportunities are available for individuals and the corporate community to become involved in this amazing programme.
Barry Smith, the owner of Paradise Cove, saw the gradual degradation of the reefs offshore of the property over time.
He did the research and started the Reef Ball Project at Paradise Cove, the largest one of its kind in the country. Michael took the students out to snorkel on the Reef Ball Reef that is now in place at Paradise Cove. The students were amazed to see the fish already living in the newly set out reef balls.
Joseph Darville, education director for Save the Bays, said: "It was like a monumental journey into the unknown, as groups of 12 YEA (Youth Environmental Ambassadors) adorned with colourful dive gear headed out into the crystal clear water to view these enormous reef balls.

"Some of them had never even put their heads under the sea before; however with quick and efficient instruction on how to use properly their goggles and snorkels, they enthusiastically behaved like pros, with life vests on, of course.

"With the abundance of knowledge they are acquiring, and combined with practical experience events, these young people, with admiring hearts, minds and souls imbued with divine wisdom, they are our sacred and chosen guardians for our precious environment into the future.

"It gladdens our hearts to be so blessed and privileged to have the honor of opening up their awareness to the unique God-entrusted gifts of these islands, the 'Gem of Mother Earth'. We salute them, their parents, teachers and schools, who have encouraged them to go where no young Bahamian children have gone before."
Mr Smith added: "It feels good to know that our youth are learning about the importance of the ocean and to see how they can make a difference. To me, that is the future for protecting our coral reefs and sustaining our future here in the Bahamas and even the world."
Reef Ball representative Mr Headberg added: "This installation presents unique opportunities for Bahamians to acquire skill sets, like artificial reef building or coral transplantation, which will become a valuable asset as the nation moves forward; protecting, restoring and repairing the damages we have inflicted to our beloved ocean."
Fellow representative Dr Jadot said: "During this month of February alone, over 100 children and about 40 adults came on site to learn about the reef ecosystem and the reef ball technology. It was really encouraging to see the younger generation be so enthusiastic about the environment and the role they could play to protect it."
Paradise Cove, west of Freeport, is the chosen site for these programmes due to the owners' sponsoring abilities and the need of shore protection. Paradise Cove is a TripAdvisor top-rated snorkeling destination.
Youth Environment Ambassador facilitators Nikie Severe, Jensen Farquharson and Javan Hunt worked to keep the students organised and all said that they learned a lot during this exciting field trip.
The next session of the programme meets on March 8th, at 8:15am at the Mary Star of the Sea Auditorium.
For more information, contact Joseph Darville by email at jdarville3003@hotmail.com.