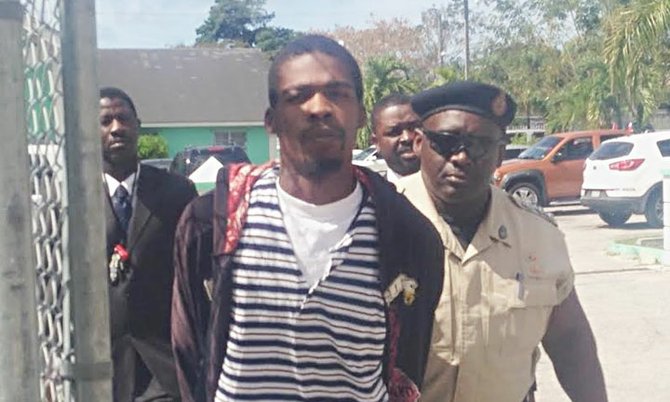 By LAMECH JOHNSON
Tribune Staff Reporter
ljohnson@tribunemedia.net
A THIRD man was arraigned in Magistrate's Court yesterday in connection with the fatal Freedom Park, Fox Hill, drive-by shooting that claimed four lives and injured seven others.
Justin Williams, 22, was the second of the three suspects to shed tears in their Once the 12 charges of murder, attempted murder, and conspiracy to commit murder were read to the accused man, a crying Williams told the court that he "get lock up for something I didn't do".
Williams faces four counts of murder and seven counts of attempted murder, similar to co-accused, 25-year-old Jermaine Curry, and 29-year-old Peter Curry who were arraigned a day after each other in January.
The three men are alleged to have murdered four persons on the evening in question: Claudezino Davis, Shaquille Demeritte, Eric Morrison and Sheique Sands.
He is further alleged to have tried to murder: Chino, Janet and John Davis, Benjamin Demeritte, Samuel Ferguson, Jermaine Pratt and Leroy Taylor.
Around 6pm on the day in question, occupants of a small, dark vehicle opened fire "with a variety of weapons" in the area just behind the basketball court where several persons were gathered awaiting Junkanoo results.
Claudezine Davis was pronounced dead at the scene while ten others were taken to hospital in private vehicles and an ambulance.
Shaquille Demeritte, Eric Morrison and Sheique Sands died of their injuries in hospital.
Williams was separately charged with conspiracy to commit murder. However, like his co-accused, he was not required to enter a plea to the charges against him.
He will reappear with Rolle and Curry in Magistrate's Court on March 18 to have their case fast-tracked to the Supreme Court for trial by a Voluntary Bill of Indictment.
Before remanding Williams to Her Majesty's Prison to await trial, she allowed him to speak. A sniffling Williams claimed that police had brutalised him while at the Central Detective Unit.
"Demeritte is my cousin. I ain't ga lie," he added between sobs.
The accused further claimed that before he was taken to CDU, police had broken into his home, and beat him about his body, particularly his stomach area that led to his kidney being punctured.
"Do you know who beat you?" the chief magistrate asked. The accused said he knew one of them, but claimed that there were about six who participated in the assault.
"Why do you think your kidney was punctured?" the magistrate then asked.
Williams told the court that he went to the hospital on the day of his arrest, last Tuesday, and then again on Friday where he was given medication.
"I'm not going to lie, love," Williams said.
"You have an affinity to calling me 'love'. It's inappropriate," the magistrate told him. Williams apologised.
Attorney Stanley Rolle, who appeared for Williams,  further informed the court that his client had complained about the abuse, but nothing came of it.
Williams showed the court two white pills he was prescribed by the physician for his injuries and told the magistrate he was only allowed access to them when he began to vomit blood.
The magistrate noted his assertions and wished him a speedy recovery before remanding him to prison.