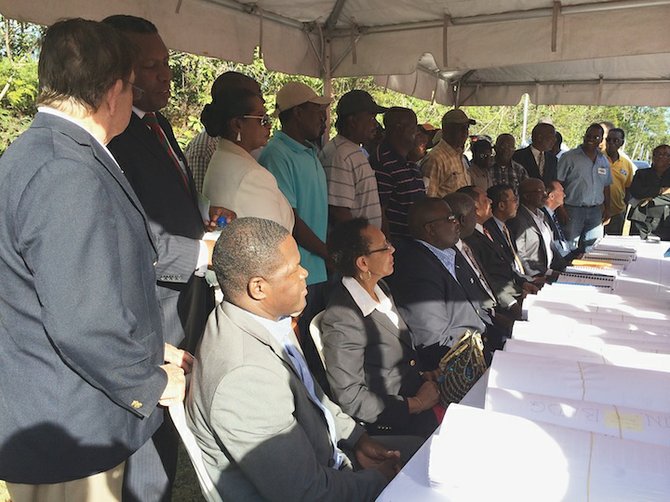 THE Government of the Bahamas has recently signed 14 contracts totalling over $20 million in Andros.
The contracts are for the construction of five main buildings at the Bahamas Agriculture and Marine Science Institute (BAMSI). The buildings include the administration building; dorms for men and women; a lecture theatre and campus cafeteria. Prime Minister Perry Christie said every effort has been taken to ensure that Androsian construction companies were commissioned to carry out the work.
"We have supported and hired exclusively Bahamian construction companies, with a fair measure of Androsian companies, ensuring that this project continues to provide jobs for Bahamians," said Mr Christie.
"We have hired some of the top Bahamian construction firms, including Brokell Construction, Paradigm Construction, Gimp Construction, Andarco and Sydamar Construction."
Prime Minister Christie said the government's vision for the institute is that it would become a "centre of excellence for farming in the region".

"We want to build a school where the research conducted is of the first rate, and has a direct impact on how and what we farm and export in the Bahamas," said Mr Christie.
Mr Christie added that it is 'hoped' that the institute attracts students who are committed to 'revolutionising' the farming and marine industry in the country.
"With considerable growth in the industry, we can make inroads to diversifying our economy and become more sustainable, in terms of providing produce for our own consumption."
He said once the farm is operational, it would provide produce for the local population and foster greater participation in the global trading network through the export marketing of locally grown fruits, vegetable and processed items.
"In due time, the institute will be up and running, accepting the first cohort of students," he said. "Soon we will have the first harvest of these bananas and other produce items; the first explorations into successfully farming shrimp; the first graduation ceremony; the first jobs provided as a direct result of this institute."
Construction of the buildings will commence shortly.
Mr Christie urged the contractors to work honestly and transparently and to hire as many Androsians as possible for the works. He said that the government will continue to regularly monitor the progress of the works.