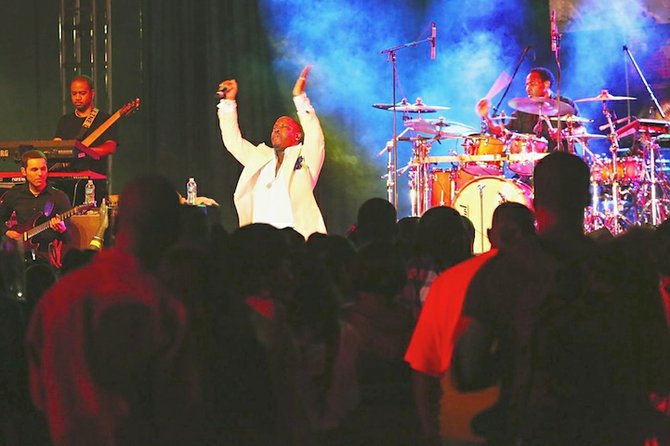 By JEFFARAH GIBSON
Tribune Features Writer
jgibson@tribunemedia.net
THE second edition of the 'Celebration of Love' concert ended with Grammy Award winner Fantasia in tears as she blessed the Bahamas, R&B singer Johnny Gill handing out roses to audience members and Ginuwine jumping into the stands and slow dancing with a concert-goer.
Despite not garnering a big crowd this year, last Saturday's mega concert left audience members thoroughly entertained and lived up to its promise of providing an intimate experience with big-name stars.
The event, which is now in its second year and presented by Fresh Entertainment, also featured performances by Bahamian entertainers including FourEver 1, Julien Believe and Angelique Sabrina. Additional entertainment throughout the night was provided by DJ Sanchez.
But the star of the night was undoubtedly American Idol alum Fantasia Barrino.
When the singer finally came on stage after a nearly 30-minute intermission, she shouted out: "Hey, Bahamas, I heard you guys thought I wasn't coming, but I am here tonight to share my music with you."
And share she did. Fantasia had the entire crowd on their feet from the moment she took the stage, accompanied by a live band and backup singers, until the very last note she sang.
True to form, she also paused during a song and proceeded to take the audience "to church" for a moment. She put on a high-energy show, singing some of her most popular singles.
The set list included hits like "Free Yourself", "When I See You", "Ain't Gone Beg You", "Without Me" and "Lose To Win".
During her rendition of the latter, audience members rocked, swayed and sang every word to the song. While singing that song, Fantasia had an emotional moment reminiscent of the time she passionately performed "Lose To Win" during American Idol last year. Fantasia's Idol performance was considered by many to be her comeback.
The star has faced many challenges in recent years with her music as well as in her personal life, but fans were happy to see her take back her career and life with the American Idol performance that left a lasting impression on those who watched it.
During an exclusive interview with Tribune Entertainment this week, Fantasia said she enjoyed every moment of her time in the Bahamas.
"I don't like for people to come to my concert and leave the same way. Bless you Bahamas and thank you for having me," she told the crowd at the concert.
Fantasia was not the only act that had concert-goers on their feet. Johnny Gill's hour-long performance had audience members jumping up and down and couples swaying together to the music.
He got up close and personal with the crowd when he stepped down from the stage, walked throughout the venue while singing to the audience. The singer also handed out roses to the ladies during his performance.
Later, he went back on stage and politely took the hands of several women in the crowd, inviting them for a dance as his performance came to an end.
Out of the international performers, Ginuwine was the hit the stage first, sending several audience members into a frenzy. The ladies in particular enjoyed his performance of his repertoire of love songs.
With the audience already won over, Ginuwine got the crowd even more excited when he jumped into the stands and slow danced with a concert-goer.
However, some people expressed disappointment when they realised that he lip-synched for most of his performance.
"It was a bit unfortunate," one concert-goer said, "but I still loved seeing him and I enjoyed his interaction with the crowd."
The Bahamian artists also got their chance to shine at the concert, with the quadruplet group FourEver 1 opening the show with their single "BFF", followed by Julien Believe and Angelique Sabrina, who sang several of her hits such as "Stop Sign" and "I'm Ready".
Julien's performance set the tone for the night as he covered John Legend's "All of Me", Miguel's "Adorn", Kris Lawrence's "When I See You Smile" and performed his own single, "Believe".
After gaining popularity with his dance hit "The Caribbean Slide", Julien was able to show a different side of himself as an artist with the acoustic performance.
• For more photos from the "Celebration of Love" concert, see PAGE 5.