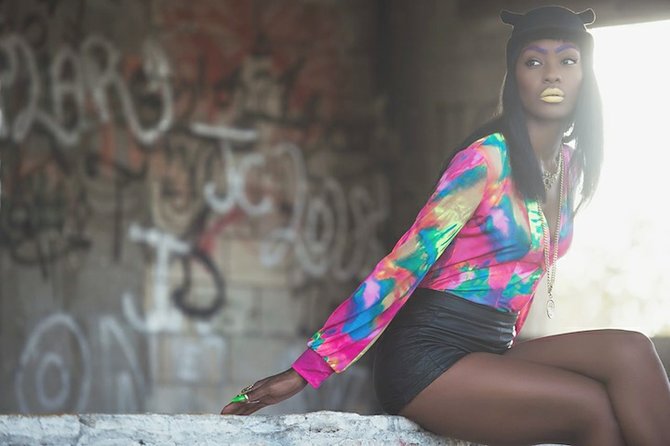 By ALESHA CADET
Tribune Features Reporter
acadet@tribunemedia.net
FROM the neon coloured clothing to the bold lips and hairstyles, Scharad Lightbourne's new photography project is an eye-catcher.
With the official release of the photos for the "Ha It Go" project last week, the public got the chance to see what Scharad has been planning for the past two years.
The new project is an exploration, an experiment of sorts centered around an aspect of Bahamian culture that has inspired him as a fashion photographer for some time now.
"I have always been fascinated by 'ghetto' or urban culture; the language, the clothing and the environment. I wasn't brought up in that environment, but just interacting with the amount of people I come across, I always found it so interesting," Scharad told Tribune Entertainment.
Taking his idea and vision to Grand Bahama, Scharad, along with his team took on the island with an open mind. He described the experience as an adventure he will never forget.
"Looking back I realised how much the ghetto influenced my work. It's bold, vibrant and full of energy. The slang is hard, lyrical and edgy. Every part of the world has a term for its urban areas; hood, ghetto, slum translated to the people being termed trick, hood rat, thug, gangster, jungaless, harajuku, redneck etc. Everyone can relate to these terms," said Scharad on his website.
Before heading to Freeport, Scharad thought of creative ways to translate his vision into art.
"I started to begin this process of research, and when I say that I literally drove around the ghetto and observed fellas playing games and sitting on the blocks. They just stare at your car and watch you drive pass. Some of the talks like 'bredrin' and 'true', I took note of that. When I first heard, 'Ha it go', I was blown away. I was like, what does that even mean, and a friend of mine broke it down to me and told me it almost means, 'How you doing?' or 'What u saying?"
With a project title in mind, all that was left for Scharad to do was build a team to work with; a model, locations and looks. He attempted to have his shoot done in Nassau, but couldn't risk it, due to the rise in crime, he said.
"One day I picked up the phone and called Grand Bahama model Tomii Culmer. I told her the idea and she immediately gave me a resounding 'yes'. I sourced the entire team, who conveniently lived in Freeport. It was an opportunity to work with other talented people such as hair stylist Ashley Rolle, make-up artist Gail McIntosh, videographer Chanarve McBride, photographer Alfred Anderson, GeeJay Cox with grips and nail artist Monette Newbold. They all agreed to come on board as team players to make the shoot happen. For weeks we planned and needed one more piece of the puzzle, a stylist," said Scharad.
He got in contact with Bahamian fashion stylist Lavonne Alexis of Cute Confections, and the team was made.
"Lavonne jumped up with excitement, almost catapulting herself out her living room couch. She loved the concept and she ran with it, sourcing pieces from local stores like Diva's Body Language, Fashion Ova Style, Shop the CC and Stiletto Shoe Loft; she came up with some incredible looks for Tomii – all matching the ghetto lifestyle theme," said Scharad.
In Freeport, Scharad got the chance to shoot in different settlements like Pinder's Point, Hawksbill and Pioneer's Way. With the assistance from photographer Alfred Anderson and GeeJay Cox, they all worked together to create true works of art with each look.
"I've been to Freeport before but it was always in the tourist areas, so for me getting to see other settlements was amazing. The people were so welcoming and one of the most defining moments for me for the entire shoot was an area called Garden Villa. It was as hood as you can get. We stood in front of this guy's house and everybody outside was just watching us," Scharad said.
"Tomii was all dolled up, she looked like a model. Even though she was dressed as the jungaless, she looked fierce. I had my big camera in my hand and we were ready to go. At one moment I turned around and there were at least 100 people out watching, the whole ghetto came out. It was so real that I stopped for a second and had to catch my breath. It was one of those times where you just had to be there to experience it."
While he does a lot of commercial work, Scharad said as a creative person, he has to do these type of exercises where he can push himself for his own portfolio and for personal reasons.
"This was a portfolio builder for me. Something that I felt in the back of my head Bahamians can relate to because of what they see in the images; taking a lifestyle and turning it into photography. There are shots where Tomii is holding a baby, she is dressed up, but the baby is in pampers. There is another scene where she is eating a chicken snack and another where she is standing in the road with curlers in her hair and guys just sitting around her. These are things that you would see every day that happen on a regular basis. I just transformed them into art," he said.
Scharad said the whole execution of this project was a success because of the people he worked with.
"I have an awesome team here in Nassau, but I wanted this project to work with people from Freeport. This entire team was really into what they did and we just worked seamlessly the entire time. There was no ego, confrontation or conflict, it was like a well oiled machine," he said.