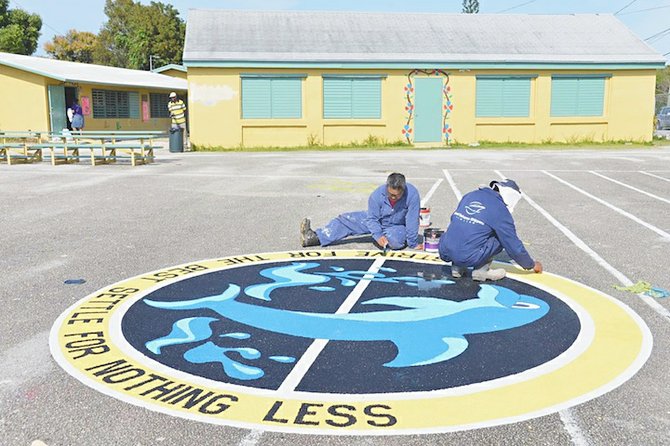 REPAIRS and improvements were made to the Holmes Rock Primary school in Grand Bahama by the Grand Bahama Shipyard (GBS) and other sponsors.
Through its annual fishing tournament, the shipyard not only paid for the upgrades at the school but also donated several hours of their time and effort to help complete these repairs and improvements to the school.
"We are very appreciative of the Grand Bahama Shipyard and what they have done for the youth at our school," said Leslie Newton, Principal of Holmes Rock Primary.
"It was lovely to see our children return after break to newly painted classrooms, really super murals on the walls and new water fountains. Their faces lit up with excitement!"
Upgrades to Holmes Rock Primary included a new water heater, completion of a smart board set-up for the school, new water fountains, installation of plexiglass in some of the classrooms, a new refrigerator for the teacher's lounge, refurbishment of the school sign, various landscaping, new ceiling fans, new trash cans, and enclosures for the trash cans. Additionally, the GBS team repainted logos and signs at the school and provided the students with two new bleachers and four new picnic tables.
Holmes Rock Primary was the first school that the GBS started to work on after the 2013 fishing tournament. Ed Pavey, GBS Youth Benefit Fishing Tournament Director and Director of Technical and Planning at the shipyard, said, "Last year our fishing tournament staff, shipyard management, and apprentices performed a complete repainting of the exterior of the school. We were thrilled when the Minister of Grand Bahama, Dr Michael Darville, even stopped by to assist with the painting chores."
This year's fishing tournament is scheduled for March 21st and 22nd, and GBS hopes to increase the fishing tournament participation as well as attendance at the family fun day.

Each year, the event has grown and the shipyard has been able to assist more schools and extend their support of local education in Grand Bahama. The tournament now has its own website and, of course, a Facebook event page.
As with all the schools the tournament has been associated with over the years, Holmes Rock Primary is a prime example of how upgrades to the facility can make a huge impact on the life of a child.

"Mrs Leslie Newton, principal of Holmes Rock Primary, has led the way with continuing this excellence in leadership and it is evident in the way the school campus grounds are maintained," noted Mr Pavey. "The discipline and courtesy displayed by the students is remarkable. This is what it's all about."
The Grand Bahama Shipyard, located in the Freeport Maritime Centre, 73 miles east of Florida, is one of the biggest ship repair companies in the region. With three floating docks that feature all the capabilities and resources for dry-docking, repairs, upgrades and conversions of ships, as well as the ability to fabricate marine structures.