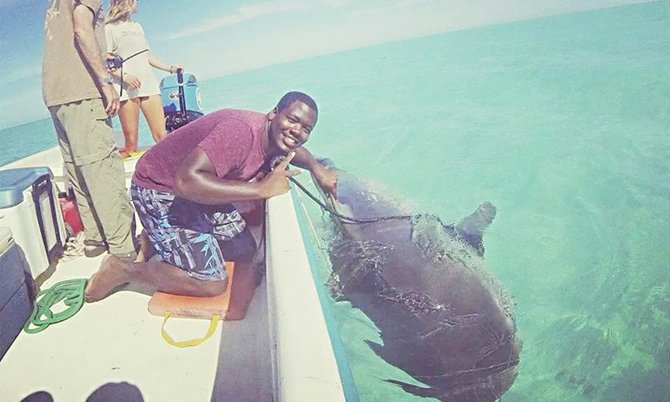 The Bahamas Marine EcoCentre, in collaboration with the Bimini Biological Field Station (BBFS) is once again offering scholarships for two students to intern at the Bimini Shark Lab.

This is the third year that the Alf Thompson Memorial Scholarship has been offered to Bahamian students and interested scientists and environmentalists.
For eight weeks this summer, two qualifying Bahamians will work and live at the BBFS, more commonly known as the Shark Lab on South Bimini with noted shark and marine biology research scientists, graduate students and other interns from around the world learning about marine and shark biology, field research techniques and conservation of our treasured Bahamas marine ecosystems.
The 2013 recipients of the Alf Thompson Memorial Scholarship found the internship experience eye opening.

25-year-old Vanille Rabier, and Christopher Ferguson, 24, spent eight weeks at the Shark Lab last fall.

"My experience at the Bimini Biological Field Station was nothing short of amazing," says Mr Ferguson. "I was able to really get a taste of the field of marine biology and shark research. I have no doubt in my mind that the skills and experience I've received from the Shark Lab will benefit my future as a marine biologist."
Both of the 2013 scholarship recipients expressed gratitude for this unique opportunity that they were afforded.
Ms Rabier said: "We learned a lot through experience. We had the opportunity to go shark diving, snorkelling, stingray wrangling and training, as well as to catch juvenile lemon sharks for research and much more."

"We also did quite a bit of tracking for research. It was a great experience."
The goal of the 2014 scholarship programme is to provide Bahamians with the opportunity to experience hands-on research at the Shark Lab with a focus on marine sciences.
This will include learning about various research techniques in the disciplines of population demographics and dynamics, molecular and behavioural ecology, bioenergetics, sensory biology and physiology.
The expectation is that the internship experience will motivate students to further their studies and ultimately pursue careers in these fields.
Applications for the Alf Thompson Memorial Scholarship summer internship program at the Shark Lab are now being accepted.
Information is available at info@tropicbirds.org and also at the COB School of Chemistry, Environmental and Life Sciences office in New Providence and at the COB Freeport campus.
Deadline for submitting applications is April 15. The announcement of awards is May 30, 2014.