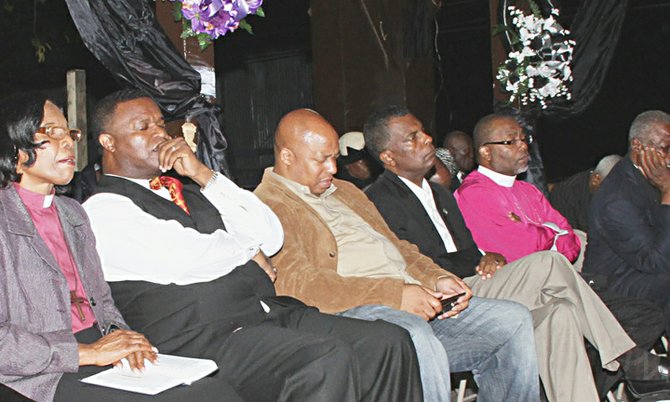 FOX Hill MP Fred Mitchell has welcomed the government's new crime initiatives as the right approach following the mass shooting in his constituency.
Speaking on Tuesday, Mr Mitchell said the plan will take effect immediately, beginning with the clearing overgrown lots as part of a sustained clean up to ensure criminals "have no hiding places".
He said: "I believe that we can praise God and pass the ammunition at the same time. This is the best strategy – pray but hit back hard. Fox Hill expects no less."
Mr Mitchell extended thanks to psychologist Dr David Allen and a number of other social agencies for their quick response and efforts to help the people of Fox Hill, particularly the young people of the Original Congoes Junkanoo group, cope with their fears and grief following the deaths of their friends.
"We thank the pastor of the nation for rallying round the people of Fox Hill," he added. "Bless you all."
Meanwhile, Bradley Roberts, chairman of the governing PLP, said he fully supports the government's strategy to "escalate the war on crime".
He added: "I appeal to the Bahamian people to adopt an attitude of zero tolerance towards criminality and to place all hands on deck in this fight in a spirit of love, unity, co-operation and shared sacrifice. This fight can be won, but it requires a national co-ordinated effort as we beat back this scourge by a lawless minority; we must do so one street at a time and one community at a time.
Mr Roberts also hit out at leader of the Opposition Dr Hubert Minnis, who criticised the new plan as "vacuous".
The PLP chairman reminded Dr Minnis that he sat around the FNM cabinet table for five years approving a crime strategy while the murder rate doubled.
"He had no plan of any effect or worth when he held all of the executive powers to put a dent in this scourge, but he and his colleagues left the country in utter chaos and in crisis. Now in opposition, he still has no plan for crime so he takes the easiest and laziest route which is to distract the government by standing on the sidelines and criticising and hiding in the tall grass and throwing stones," Mr Roberts said.