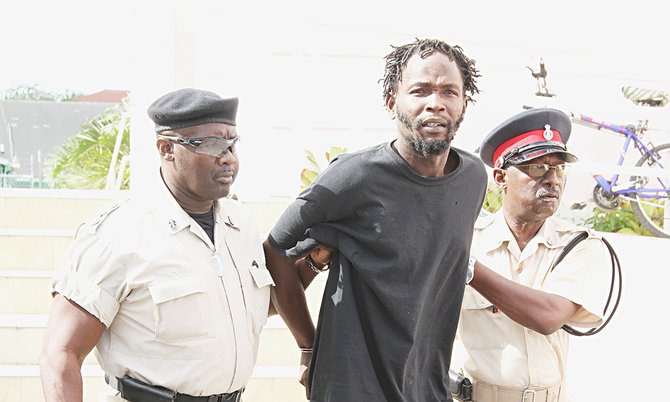 By LAMECH JOHNSON
Tribune Staff Reporter
ljohnson@tribunemedia.net
A MAN was brought to tears yesterday when arraigned in connection with the Freedom Park fatal drive-by shooting that claimed four lives and injured seven others.
However, before entering Magistrates Court no 9, Peter Rolle was jeered by victims' relatives outside the Nassau and South Streets court complex. Not only did they question "why?" but they recommended hanging for "justice."
Rolle, standing before Chief Magistrate Joyanne Ferguson-Pratt, disputed any involvement in the December 27, 2013 incident, claiming that he was standing on Dorsett Street at the time of the shooting.
The chief magistrate had asked Rolle if he had something to say having noticed him crying during his arraignment on four counts of murder and seven counts of attempted murder.
The 29-year-old Bernard Road resident claimed that around the time of the alleged incident, he was standing on Dorsett Street with as many as 15 people who could vouch for his claim.
He also said that a nearby store, Big K's Convenient Store, has CCTV that may also be able back up his alibi. The magistrate made a note of his claims.
Rolle is alleged to have murdered four persons on the evening in question: Claudezino Davis, Shaquille Demeritte, Eric Morrison and Sheique Sands.
He is further alleged to have tried to murder: Chino, Janet and John Davis, Benjamin Demeritte, Samuel Ferguson, Jermaine Pratt and Leroy Taylor.
Around 6pm on the day in question, occupants of a small, dark vehicle opened fire "with a variety of weapons" in the area just behind the basketball court where several persons were gathered awaiting Junkanoo results.
Claudezine Davis was pronounced dead on the scene while 10 others were taken to the hospital by private vehicles and an ambulance.
Shaquille Demeritte, Eric Morrison and Sheique Sands died of their injuries in hospital.
The 29-year-old accused, who is presumed innocent until proven otherwise, was not required to enter a plea to the charge.
He was further informed that his case would be tried in Supreme Court after being fast-tracked through a Voluntary Bill of Indictment (VIB) on March 18.
Following this arraignment, another man was charged in connection with the Boxing Day murder of Antonio Curtis.
Kevin Brown, 24, of Baltic Avenue was charged with the December 26, 2013 fatal shooting incident that occurred in Fox Hill shortly after midnight.
Around that time, Curtis was sitting on an upturned bucket on the side of Dorsett Street when several persons in a silver coloured four-door Honda approached and fired numerous shots, hitting him in his face before speeding off.
He was pronounced dead at the scene.
Brown, who was charged with the murder, also was not required to plea to the charge.
He too will have his case forwarded to the Supreme Court for trial by a VBI set for March 18.
Brown, like Rolle, was remanded to Her Majesty's Prison, Fox Hill because bail did not arise. The court, as of November 2011, no longer has the jurisdiction to consider bail on such capital offences as murder and attempted murder.