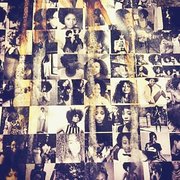 By ALESHA CADET
Tribune Features Reporter
acadet@tribunemedia.net
APRIL BEY's Hair has always been used by people to place her in a comfortable race category.
Her mother is white and her father is black. When growing up in the Bahamas, April was told and in some cases bullied into chemically altering her hair to conform to a euro centric notions of beauty while masking her blackness.
After educating herself by doing comprehensive research into black hair and identity, she decided to put together an exhibition provocatively titled "Picky Head". It brings together a number of observations and features from her research. The exhibition is set for 5.30pm, Friday at the Liquid Courage Gallery, featuring 8 to 9 pieces of her work.
"The ironic part of this is that black women are the highest consumers of hair relaxer and to blend in with them you must straighten your hair to appear white. This seemed like the protocol to me until about the age of 23. It flabbergasts me that I spent over 17 years of my life having no idea what my natural hair looked or felt like because I chemically destroyed it to blend in with the black women I lived, worked and went to school with. Even more disturbing was that I wasn't alone," April told Tribune Entertainment.
April said she looks at her work not as a sermon, but as an exploration of the origins of these perpetuated stigmas. "I just state the facts; show the destruction these products do physically and psychologically to a race and gender. I wanted to display work that encouraged debate and self-reflection by both men and women," said April.
Her art background goes as far as 13 years in the field with a Bachelors of Fine Art (BFA) in drawing from Ball State University in Muncie, Indiana. As an Bahamian/American artist, her work is currently based in Los Angeles.
"After obtaining my BFA I took two years off to focus on a body of work devoid of academic influence. My husband's job moved us to Los Angeles, which I hated at first. However, I took the work I had been working on for those two years into several grad programs to see if I was ready. I chose California State University Northridge (CSUN) due to their interdisciplinary focus on contemporary art. The professors are instructors second and artists first; very active in the LA art world and supportive. In May of 2014 I will be graduating with a Masters of Fine Art (MFA) in painting," said April.
For several months, in preparation for the exhibit, April said she conducted an informal survey online asking for men and women of colour to submit images of themselves with their natural hair; she wanted them to take a selfie to be incorporated in the particular installation.
"My work makes direct reference to what I've deemed The Millennial Natural Hair Movement, which started on social media sites, aimed at black women in an instant-gratification-style learning platform. Since this movement was primarily waged on-line, it is uniquely millennial and homeland (Gen Z) leaning, due to its hyper-digital mode of transmitting information," said April.
"The installation will consist of four scrolls measuring 36 by 98 inches each, with thousands of unique images of men and women proud and wearing their natural hair out. The images will all be converted to black and white and the shear number will act as it's own patina. Pounds of hair relaxer will be dripped from the ceiling and allowed to distort the images. The words "Picky Head" will be offset by the corner in large type and spelled out in hair relaxer. The only way for the viewer to see what the large scrolls contain is if they get close, seeing the images of men and women all over the world, including the Bahamas, in their natural states, distorted and slowly dissolved by this habit driven product," said April.
Along with the large installation, April said there will be various prints referencing vintage Ebony Magazine ads used to sell skin whiteners and hair alterations. She said there will also be photographic digital prints of the microscopic process of hair actually being relaxed, which appear quite beautiful under the microscope.
"There is a painting referencing hair relaxer brands and graphic design associated with the marketing of these brands painted with hair relaxer, and finally documentary photographs directly associated with the Bahamian hair community I was able to capture while here this past summer. I use hair relaxer in just about every piece as a painting medium," said April.
"It was a Bahamian woman who first told my white mother to relax my hair because showing my father's nappy ethnic hair was unprofessional, dirty and not the social and cultural norm. This movement I make reference to in my work was founded online and through social media, a great deal of the members and founders are from the Caribbean. In fact, I have reconnected with family and friends from the Bahamas through this movement; we all follow the same vloggers and use the same techniques," said April.
April said the overall idea she wants to convey with the exhibition is that of the sinister and sweet.
"All of the work has this sinister quality to it but on the surface it's quite beautiful. When we think about what we do to ourselves in the name of beauty it seems quite sinister. Ideas of racial identity and Bahamian identity will be explored as well," said April.