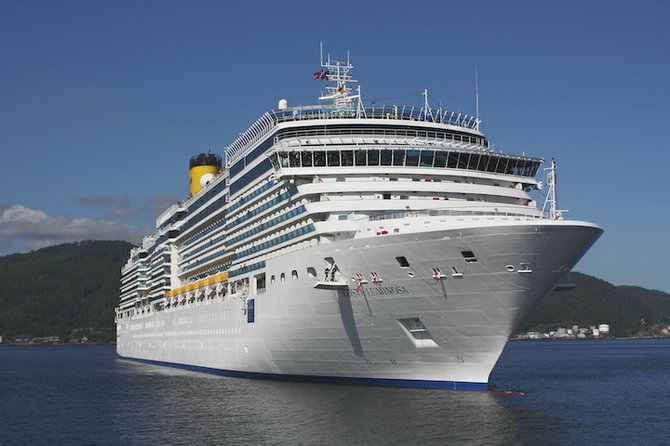 BY DENISE MAYCOCK
Tribune Freeport Reporter
dmaycock@tribunemedia.net
FREEPORT – Grand Bahama saw a new cruise ship for the New Year on Tuesday when the Costa Luminosa made its maiden voyage to Freeport Harbour, with more than 2,000 passengers.
The vessel sailed from its home port in Miami. It is the first of four calls the ship will make to Freeport this year as part of a 10-day Caribbean cruise.
Ministry of Tourism and Freeport Harbour officials marked the occasion with a plaque exchange during a brief welcome reception aboard the vessel.
Captain Nicolo Alba – who also presented a replica of the ship to officials – said the ship brought 2,400 passengers to Freeport.
He said the vessel has a crew of 1,000, and can accommodate 2,680 passengers.
The passengers on board were mostly Europeans travelling from Italy, and some Americans.
Despite the windy and chilly weather conditions, many passengers came off the ship to venture in the stores and the straw market at the port, as well as into Freeport itself.
Capt Alba said they will make two or three more visits to Freeport in the year. He said they will also sail to Nassau on their next cruise.
Costa Cruises operate the Costa Luminosa. The ship features four restaurants and 11 bars.
Its ten-day itinerary includes calls at Nassau or Freeport; Grand Turk, Turks and Caicos or Princess Cays; Ocho Rios, Jamaica; Grand Cayman, Cayman Islands; Roatan, Honduras, and Cozumel, Mexico.
Orlando Forbes, port director at Freeport Harbour Company, was very pleased to have Costa Luminosa call at the harbour.
"We will continue to talk with them, and hopefully get them to add Freeport to their itinerary which can help our cruise numbers significantly," he said.
Mr Forbes reported that business at the harbour is "pretty good" due to regular calls by Carnival.
He said Carnival sends in excess of 200 ships annually to Freeport. He noted that Norwegian Cruise Lines also calls at the harbour.
"We are expecting slightly over 300 calls in 2014. Carnival is our main business and accounts for 2/3 of the ships calling here. And so to get vessels from brands like Costa Cruises and MSC (Mediterranean Shipping Company) helps Freeport, and we continue to reach out to them," he said.
Brooke Sherman, MOT public relations officer, said they are excited about tourism on Grand Bahama in 2014.
"Grand Bahama is rebounding now. We are excited about all the projects that are ongoing in 2014. We can look forward to more airlift and the new hotel is about to open," she said.
"There is a lot of excitement and attention coming to GB, and this (call by Costa Luminosa) is very welcome."