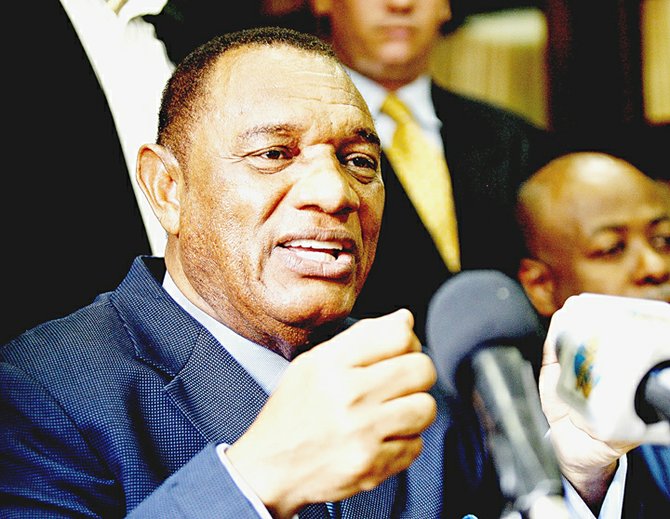 By KHRISNA VIRGIL
Tribune Staff Reporter
kvirgil@tribunemedia.net
PRIME Minister Perry Christie said yesterday the Bahamas Christian Council must be seen to do more in advancing the country rather than focusing its attention on criticising the actions of government.
Speaking after the morning session at Parliament, Mr Christie said the church has a duty not only to preach healing and calmness to parishioners but to take to the streets as well at a time when retaliation killings continue.
Mr Christie said: "I had occasion to speak to the police,  but it was not a reported matter on Saturday. I was hoping that the President of the Christian Council (Rev Ranford Patterson) was in the room because I had something to say to him personally too about what I think he should be doing.
"It goes both ways that I think the Christian Council has a deep obligation to understand that they should be on the streets too. They should be the same kind of response that we are concerned about when people are killed and there is retaliation.
"Governance is more than just sitting back and criticising it's about participating. The church cannot be exempted from a critical eye. Not that they are not stepping up to the plate,  but then you don't have this kind of feeling that they are stepping up to the plate. So not only must I do something, I must be seen to do it.  That is the same scrutiny under which the church must be looked at."
Mr Christie was responding to Rev Patterson who said the government had no regard for the thousands of voters who said no to legalising numbers in last year's gaming referendum.
The comments were also related to Tourism Minister Obie Wilchcombe's declaration that officials would seek dialogue with church leaders over the matter. Patterson urged Mr Christie to clarify whether Wilchcombe was speaking independently or on behalf of the government. Rev Patterson also questioned why web shops were still allowed to operate a year after the referendum.
As the Council's questions continue to loom, Mr Christie said it was important for them to understand that he is not responsible for executing laws.
"Read my statement and what I said. I am not responsible for executing the law so...But what they will find is that if they had an audience with the Commissioner of Police (Ellison Greenslade) they will find how complex this issue is.
"One of the things that we have to learn to do in the country, whether it is the private sector or the business sector or whether we are the church, is to recognise that the government is not going anywhere. And to recognise that whatever the position the government takes, the citizens of the country have a right to challenge, to question and most certainly to come in and ask could you please explain the position we are taking?
"So I would have thought that the Christian Council would have wanted to have a meeting. If they want to come and talk to me I most certainly would be willing to talk about it."