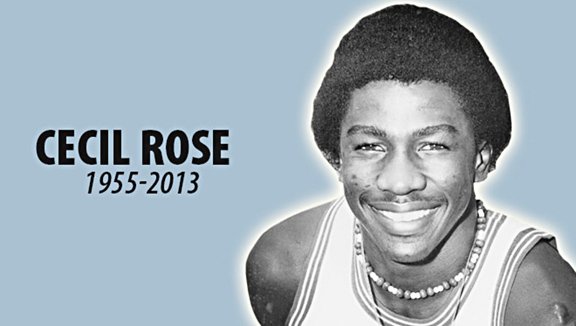 By BRENT STUBBS
Senior Sports Reporter
btubbs@tribunemedia.net
ALTHOUGH it was not as heralded as the other two funerals that took place this weekend, talented guard Cecil Rose was remembered for his contribution as a trailblazer to the Bahamian basketball community.
On Saturday, Rose's home going celebrations took place at the Salem Union Baptist Church before he was interned in the Catholic Cemetery on Infant View Road. The Rev Dr Reuben Cooper Jr conducted the ceremony.
Special tributes were offered by Gary 'Super' Johnson, his lifelong friend and adopted brother, Emmett Saunders, a friend of the family and Jacob Rose, one of his brothers.
Rose died on December 27 in Houston, Texas, where he resided.
Bahamas Basketball Federation president Charlie 'Softly' Robins said Rose will certainly be missed.
"One of the sad things about it was Cecil was away from the BBF from basketball for a while and since I took over as president, he and his brother, Lynden, had shown an interest in taking part in basketball again," Robins said. "Some of the top basketball players, especially the pros, reside in Houston.
"So when I was looking for a national coach, both Lynden and Cecil had advised me who we could look at. Lynden said he will continue to work with us, which is a plus. We were hoping that Cecil would have continued, as we locate some of the players to get them to come home and help out the national team. So that's what I'm really going to miss about Cecil."
In the past, Robins and the late Rose played together on the men's national team. Over the last few years, they renewed their friendship even more closely as they worked together with the Ministry of Tourism's Sports Division and they talked a lot about what they could do together.
"So he will be missed. It was a sad time, but things happen," Robins said.
During his sojourn on earth, Rose left an indelible mark on the basketball court, starting from high school to the professional ranks and into his post-playing days where he was a contributor to the development of so many local players in the United States.
Many remembered Rose's exploits that were first brought to prominence as a Jordan Prince Williams standout who went on to star at Miami Jackson High School and further enhanced his skills at the University of Houston.
During his latter era, he teamed up with fellow Bahamian, the Rev Charles Thompson and National Basketball Association (NBA) great Otis Birdsong on the Cougars' famed basketball team.
Among his credit was 23rd scoring ranking in school, a berth into the NIT Championship game in 1977 and an appearance in the National Collegiate of Athletic Association (NCAA) Tournament First Round in 1978.
During the latter sting as a senior, Rose averaged a career high 17.6 points per game and was named to the All Southwest Conference Second Team and the NABC All-District's 9 Third Team. His feat enabled him to be drafted by the New Jersey Nets in the NBA.
However, Rose opted to play overseas for two years in the Continental Basketball League and in Mexico. He also played for the Bahamas men's national basketball team in the Pan American Games and was dubbed a "Goodwill Basketball Ambassador" for the Bahamas by then Prime Minister Lynden Pindling.
He later encouraged his brother, Lynden, to eventually follow in his footsteps at the University of Houston where he played for the Cougars as a part of their "Phi Slama Jama" team that included NBA greats Hakeem 'the Dream' Olajuwon and Clyde 'the Glide' Drexler, known for its slam dunking and explosive, fast-breaking style of play in the 1980s.
Additionally, three of his sisters, including attorney Sharon Hutchinson, a former national track and field team high jumper, all attended the University of Houston. And having continued his close ties to the University of Houston, Rose was able to persuade his nephew, Lynden Rose Jr, to carry on the family tradition where he is now the starting guard for the Cougars.
'King' Eric Gibson and Winston 'Gus' Cooper may have had a huge fanfare in their departure on earth over the weekend. But family and friends showed up in good numbers to pay their last respect to a basketball legend.
A scholarship fund has been set up for Rose as his family intends to keep his memory alive at the University of Houston. May his soul rest in peace.