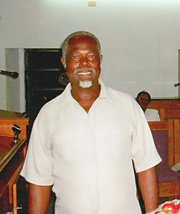 By BRENT STUBBS
Senior Sports Reporter
bstubbs@tribunemedia.net
WHILE still trying to come to grips with the shooting death of four victims last month, the Fox Hill community is now mourning the sudden passing of Deacon Ethelbert 'Eddie Marker' Rahming, the legendary basketball coach and disciplinarian who developed some of the top players in the area.
Rahming, 73, passed away on Tuesday morning at the Princess Margaret Hospital.
He was remembered by many of the players, who had nothing but the uttermost respect for the man they considered to be a father-figure.
"Super guy" was how Anthony 'Bowe' Davis recalled Rahming. "He was a father figure to all of us. It was more than just basketball with him. It was more about shaping lives than playing basketball. He was a hero in Fox Hill because he bridged the young men in Johnson Road and the young men in Fox Hill to play together.
"That's the one thing we are missing in Fox Hill right now. That's how we have this problem that we are experiencing right now. He was able to bring us together."
On the court with the Smirnoff Nangoes in the New Providence Basketball Association, Davis said it was all about team.
"He made sure every time we went on the court, we practiced. We practiced like nobody else. Sundays at six o' clock in the morning, Marker used to come pick us up and in the afternoons, we practiced again," he said. "He was a good teacher. He taught the fundamentals of the game."
Jimmy "Joe Black' Clarke, still in mourning over the passing of his high school coach, Winston 'Gus' Cooper at RM Bailey High, said it was a double blow to him when he heard of Rahming's death. Rahming, he said, played a pivotal role in his development in night league and as a member of the men's national team.
"Marker was a kind, well-rested coach," said Clarke, who himself went on to follow in Rahming's footsteps, having returned home from college to start as an assistant coach with the AF Adderley Fighting Tigers before he went on to win Hugh Campbell Basketball Tournament titles with the CR Walker Knights and the Sir Jack Hayward Wildcats in Grand Bahama.
"I started off playing night league with Marker because when we came out of juniors, the Fox Hill Saints only kept two players, (Kevin) 'Chick' Rolle and Reuben 'Cheetah' Knowles. The rest of us went on waivers. So I went with Marker and he allowed me to play and I ended up winning Rookie of the Year. That was in the 1970s."
Eventually, the Saints were winning to recruit Clarke, but he decided to stick with Rahming and the Nangoes.
"He took the ones nobody wanted and he made us into something," Clarke said. "At practice, when we had to do a drill, we did a drill to perfection. If we were shooting lay-ups on the left side, we had to make 100 straight. You can't miss or you start all over. We had no choice but to do it right.
"He was just so faithful and kind. If you didn't have a job, Marker would assist you with a job so you can have some money in your pocket. He won't give you any money. He made sure that you worked for it. He taught you how to work for what you wanted. He was the same way on the basketball court. He taught us how to work hard to be better players."
As a coach who didn't ruffle any feathers with the officials in the game, Clarke said that might have worked to their detriment as they didn't get some of the breaks that they felt they should have gotten.
While the Nangoes won the first division II championship title over the General Electric Shockers under Rahming, they pulled off the big one in the senior league.
One year the Nangoes came close, losing to Bain Town when the late Ricky 'Kool-Aid' Ferguson canned a pair of free throws on a foul by Clarke. Bain Town, coached then by Steve 'Bullah' Pinder, won the game by one point in the fifth and deciding game of the championship series.
"We all respected him as a coach. He was just like a father figure," Clarke said. "Although we had players who went off to school, whenever we came back, I never heard one of them say he can't coach. Whatever move he made, we went with that. We respected that. And one of the things he always did was make us pray before we played. You had to pray before you go on the court as a team. I got blessed by playing with the Nangoes. I got a scholarship to go off to school. So I really appreciated what he did for me personally and even with us as a team."
Kevin 'Chick' Rolle said from a young boy at the age of 13, he began playing for Rahming.
"He was a very stern and energetic young man. He took us to some hard drills, but we went on to do some exciting things in Fox Hill and for Fox Hill," Rolle said. "We began playing with him in the park league in Fox Hill and we ended up playing in the night league.
"He would take the young boys like us and when we were not playing or practicing, he would have us sit around on the park in Fox Hill talking about the game and about life," Rolle said. "It was really a pleasure to have been coached by him. I think he helped me with my discipline as a police officer."
After joining the Police Force around 1975, Rolle said he ended up playing against the Nangoes and Rahming because he had to compete for the Police team. But he said it was a pleasure whether playing with or against Rahming. He noted that his life was enriched by being around him.
Among some of the other players that came under the tutelage of Rahming were Keith and Gralin Humes, Lionel Clarke, Sidney Francis, Pat 'Soft Touch' McKenzie, the late Reuben 'Cheetah' Knowles, Kermit 'Pa' Rolle, Ishmael ' Clarke, Pedro 'Bingo Long' Eve, Kevin 'Moe' McDonald, Bradley 'Wolf' McDonald, Roscoe Ferguson, Craig Fox, Eric 'Ice Man' Rahming (brother), Joshua Sears (former Ambassador to Washington) and Noel 'Big Brother' Rahming (brother).
Rahming, who started playing with St Anselm's in the 1950s before he began coaching with the Ramsey Blazers in the 1960s, also coached in the Baptist and Catholic Church leagues. Many felt that Rahming was so disciplined that if a player didn't come to practice, they were benched and that even included his own brothers and nephews.
Rahming was the senior deacon at St Paul's Baptist Church in Fox Hill, pastored by his brother, Rev Dr Carl J Rahming. He left behind his wife, Monica, children Vernon Rahming, Eddie Rahming Jr, Pamela Saunders, Sheldon and Valencia Rahming and other siblings, including Hazel Chea, a former member of staff at The Tribune.
May his soul rest in peace.