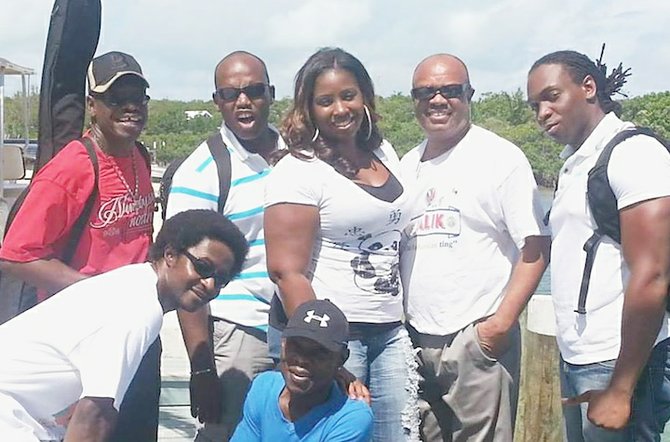 By LESH
Tribune Features Reporter
acadet@tribunemedia.net
VETERAN musician Ira Storr said he is concerned for Bahamian musicians who struggle to break through because of a lack of support for Bahamian music.
He hopes 2014 will be the year when Bahamian music receives the same level attention as Junkanoo in terms of sponsorship. 
Speaking in reference to Bahamian icons Gus Cooper and King Eric Gibson, both recently deceased, Ira said the farewell celebrations were symbolic of the levels of support for Junkanoo and Bahamian music.
"For Gus, there were celebrations on Bay Street from 12 to 7 in the morning. At his funeral, there wasn't no room to pass through due to the Junkanoo celebrations. For King Eric, you had no organisation that came together to say lets throw a concert in celebration of him. This is one of the nation's builders in the tourism industry. I came up under Ronnie Butler and King Eric, I was a drummer in his show band for years," said Ira.
While musicians are getting some support from the Bahamian public, Ira said the corporations they try to target for sponsorship often turn a blind eye.
"They would do it for Junkanoo and they would do it for foreign artists, but it is a struggle for us to get it. Look at the Reggae artists, when they come to our country and they say they want a certain amount of money, they get it. If we say we want something in terms of money for our service, we can't get it. When Jamaica needed a change in their music industry, all their radio stations were playing Reggae and Dancehall music. We need all our radio stations to play 100 per cent Bahamian. Now when we get a hit, you might hear it three times a day," said Ira.
He said it is difficult to produce an album every year, if they are not getting support and air play on the radio stations. "We have less jobs as far as entertainment is concerned. If the radio stations can play our music, then we can try to produce an album every year," said Ira.
As for managing his group Ira Storr and the Spank Band, Ira said it has not been easy keeping the band together for all these years, but he has learned to keep focus and balance. The band is most known for their down home Bahamian flavour, as well as Rock n Roll, Funk, Reggae, Pop, Ballads and R & B.
"We love doing this because at places we play, we have a lot of people that come up to us and request songs. The type of party band that we are, we try to please what the people love to hear, but down home music is our most important sound," said Ira.
The members that make up the band are Samuel Murphy on the drums, Peter Francis and John Stuart on Keyboard, Collin McDonald on lead guitar and vocals, Erica Symonette with lead vocals, Manix on sound engineering, and Ira Storr.
Ira gives credit to the people who continue to support Ira Storr and the Spank Band like Via Cafe, where they play every Saturday night.
"When we started, the people really enjoyed what we do and I must say that Via Cafe and the management and staff, they really interact with us and makes us feel at home. People get on the dance floor and we have a great relationship with the place," said Ira.

Ira said he believes if tourists come to the Bahamas in search of entertainment, they should be able to find that Rake n Scrape and Junkanoo sound. "That is our music and I believe in our culture. If you come here then you have to get with our culture. For me, my culture is first, then I play the other stuff. However as a dance band, I still have to accommodate everybody, but I have to admit that my Bahamian culture comes first. Anyone knows that when you hear the Spank Band, you know you got a party and that's the way it is," said Ira.
Also, Ira said another step to changing the music industry for the better, would be another music competition offered in the Bahamas like the Global Battle of the Bands (GBOB). He said this would give Bahamian bands the opportunity to express themselves more.
"I competed in the GBOB competition before and I didn't go back in the competition because I believe they discredited the band. If they know that they are looking for Rock and Roll then they should say that from the start. If you come in the Bahamas and you love what we do, then we can give you our music. Of course we can experiment and put stuff together like we always do, but if you are looking for something else like Reggae or Rock and Roll, make that clear. A lot of promoters that I know, I think they are willing to talk to and see about sponsors that can help them do this, a new event. However, they are not getting the support from whoever they run to," said Ira.