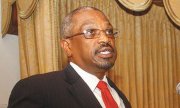 By RASHAD ROLLE
Tribune Staff Reporter
rrolle@tribunemedia.net
OPPOSITION leader Dr Hubert Minnis is questioning whether the government has made any significant progress in its negotiations to secure the majority stake in the Bahamas Telecommunications Company.
His comments come as the government remains tight-lipped on the status of the negotiations with Cable and Wireless Communications (CWC) executives, despite Prime Minister Perry Christie's statement last week that an announcement on a new agreement for the telecoms company would be made shortly after a meeting that was scheduled for Tuesday with CWC executives and members of the Cabinet.
Calling Prime Minister Christie "an excellent pontificator" but "an orator with no results," Mr Minnis said: "If Christie has 2 per cent as he said he was going after, you don't think he would announce that immediately? We're waiting to hear what he says.
"But the PLP would keep you on in a limbo once they think it is working for them, not for the country. He is there talking about his legacy; a legacy as a talker with no action.
"We have lots of issues out there and you worrying about legacy? We have issues of a failing education system, of people losing their homes, of crime wreaking havoc and you worrying about legacy? FNM believes in country before self, in making decisions for the betterment of country, not self. The PLP is bad for this country."
Last month, Mr Christie said the government concluded negotiations with CWC for the majority stake in the Bahamas Telecommunications Company Ltd.
The next step, he said, was to take the proposal to Cabinet for their approval or disapproval – a process he said should be completed before 2014 began.
However, the focus of the Cabinet meeting shifted to crime after four persons were killed and seven others injured in a drive-by shooting in Fox Hill.
CWC purchased 51 per cent of BTC in 2011 amid widespread controversy. The government owns the remaining holdings.
Mr Minnis yesterday reiterated his belief that the government should abandon its efforts to take BTC back.
He said the government should allow the Bahamian public to buy the nine percent shares the FNM left for them in an effort to boost local empowerment.