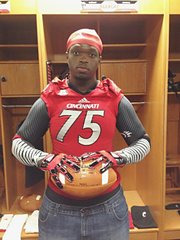 By BRENT STUBBS
Senior Sports Reporter
bstubbs@tribunemedia.net
WHEN Dawnita Fry took her family to the United States, she knew that it would change their lives, but she didn't anticipate it would be like this.
While Fry was working on improving her physique as a female fitness competitor, her son Christopher Ferguson switched from playing basketball to playing football, a sport he started to play with the Orry J Sands Pros in the Commonwealth American Football League.
On Friday, Ferguson agreed to accept an athletic scholarship to attend the University of Cincinnati after he spent the past year developing his skills at Lake Nona High School in Orlando, Florida.
"It was a really good school and when I went up there for my visit, I was really impressed with the school," Ferguson said. "They have an awesome school and facilities. When I hung out with some of the players who are currently there playing football, I just felt that it would be a perfect fit for me."
In the one year that he has been in Orlando, Ferguson said he has grown and developed into a well-oiled machine as a defensive linesman. He is now 265 pounds and standing at six-feet, six-inches.
"Before I left, my coach Trevor Grant had me in great shape to play basketball," said Ferguson of his prior days as a basketball player. "But when I got here, the coaches told me that in order for me to develop as a football player, I would have to give up playing basketball because I will have to lose too much weight and I won't be able to play football."
The decision has been one that Ferguson said he doesn't regret at all.
"I still like basketball. I wish I could still play," he said. "But the coaches have sat me down and we looked at the bigger picture. Now I'm getting ready to go to college on a full athletic scholarship to a major division one school where I will get to continue to play football."
Ferguson, 18, has helped his cause. He's been an astute student in the classroom, having accumulated a grade point average of 3.65.
"The teachers here are so helpful. They really help you to learn," he said. "They work with you because they want to see you succeed. They are on you each and every day to help you get better."
His proud mother said in hindsight, she would not have changed her decision to bring her family to the United States for anything in the world.
"It's just so exciting, it's overwhelming because when we came here he was playing basketball to bide time until it was time to play football," Fry said. "But when he started playing, he got so good at it. The first opening we got was when a coach from Illinois came and looked at him. After that, so many people started coming.
"I saw it on TV with so many athletes, but I didn't believe it was happening to us. Now that he's committed to Cincinnati, he still has schools trying to grab him up like Bethune Cookman and Colorado State. Everybody is trying tp pinch him from Cincinnati."
With about eight schools in line to recruit her son, Fry said they went through an elimination process by putting everything on a chalk board and narrowing down their decision based on their athletics and academics and they finally came up with Cincinnati.
"When we went to Cincinnati, the welcome was amazing," she said. "They treated us like royalty. They rolled out the red carpet. They welcomed him, they wanted to meet me and the coaches took the time out to get to know him. But what we liked was the fact that the coaching staff was a praying staff, so it was a family atmosphere for us."
Fry said when she came to Orlando to develop her bodybuilding skills, she just wanted to ensure that her two children would get a good education. But no where in her wildest dreams did she envision that her son would have brought so much joy to her when he secured the full athletic scholarship.
"For him to get a full scholarship was unbelievable. They are taking care of everything," she noted. "I don't even have to feed him because it was expensive to feed him. They even had physical trainers who will be working with them. They checked him out and he was okay. We learned that he grew an inch.
"Everybody loves him because he's so humble. His father is out of the picture, so it was just me and my mom and my husband. We worked together to help him. He's such an amazing kid. I'm so proud and blessed to have him."
Ferguson is expected to officially sign his letter of intent to attend the University of Cincinnati on February 5 in Orlando. At that time, Fry said they intend to invite a lot of their family and friends from the Bahamas to visit the historic occasion.
For his friends and former team-mates with the Knights basketball team at CR Walker and the Pros football team, Ferguson encouraged them to never give up on their dreams.
"Don't let nobody tell you that you can't do anything," he said. "People will try to discourage you, but you have to believe in yourself and continue to pursue you dreams."
Ferguson said he's grateful to his mother and stepfather for helping to facilitate his move to Orlando. He said he's just blessed to have been put in a position to succeed.