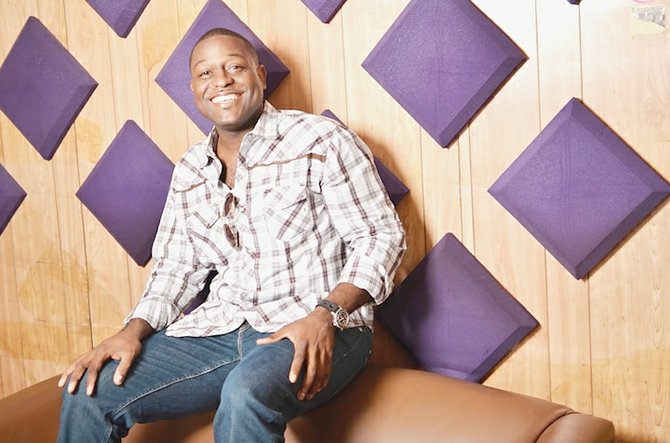 By FARAH
Tribune Features Writer
jgibson@tribunemedia.net
INTERNATIONAL superstar Beyonce released an entire visual album in just one night, and music producer Pharell released the world's first ever 24 hour video for his single Happy.
Musicians are all around the world are coming up with innovative ways to introduce music, as a way to set themselves apart in a highly saturated industry.
Similarly Bahamian musician Dillion "D-Mac" Mckenzie will challenge himself by releasing one song a month for the duration of the year. Although not a new endeavour for the artist, who embarked on this same journey in 2011, D-Mac believes this time around it will be much more difficult because some of the songs will be produced on a new rhythm that fuses soca and rake n scrape.
"I am going back to releasing one song a month, and it was effective when I did it almost two years ago. I decided I wanted to embark on that mission once gain. I am always challenging myself to go to the next level and stay creative.
"The first time it was very easy to accomplish. I made a challenge the first time that I was going to do ten songs in ten days, and I had the songs done in six days. But now it is challenge with me exploring into this new sound. But this one I am sure it will be extremely challenging," he said.
When first embarking on the challenge in 2011, D-Mac said he found that releasing one song a month was very effective in getting Bahamians familiar with his sound and his music.
"What it did for me was it changed the game for entertainment in the Bahamas. I learned from how it is done on an international level, and even from Jamaican artists. Sometimes you hear a song, this month then the next month you hear a song, and then they have different rhythms that they perform on. Even in the United States with R&B music, artists are releasing songs every other month and that is not something we are doing here.
"I believe we need to start operating more on an international level. I think that is how we are going to be taken seriously in terms of the amount of music we have. So releasing one song a month not only sets the challenge for me but for other entertainers, to start recording and getting in the studio because you could never have too much Bahamian music. I have noticed that artists are beginning to release more frequently and this enhances the market," he told In Ya Ear.
D-Mac had a very successful year in 2013, taking home two trophies during the Cacique Awards and being named a Bahamian Icon.
With all of the plans he has slated, he anticipates this will be another exciting year for him. He will perform at Best of the Best for the second time and several Regatta festivals.
"I have also had a lot of offers to perform at the different carnivals, so I intend to take up some of those offers," he said.
"From I began there has been a consistent steady growth, from I started with the challenge one a month. It has gotten me to great places. I believe if you put the work in and take the industry seriously you can benefit from it. And it shows the level where you have arrived. It has been a steady growth and it is blooming.
D-Mac will direct his focus towards generating music for his new album as well as releasing a number of music videos.
"I am also working on a new style of music 'Forake'. It is infused with rhythms from the Caribbean. The 'Thank You Riddim', which was released last year was a fusion of reggae and rake n scrape. But his new riddim adds soca and rake n scrape to it. I wanted us to identify in some sort of way to the Caribbean style of music. We know that everything is trending and Caribbean music is changing all around so we need to now progress into this new era of music and join circuits," he said.
D-Mac said his recording studio, Commonwealth Studio is also looking for fresh Bahamian talent.