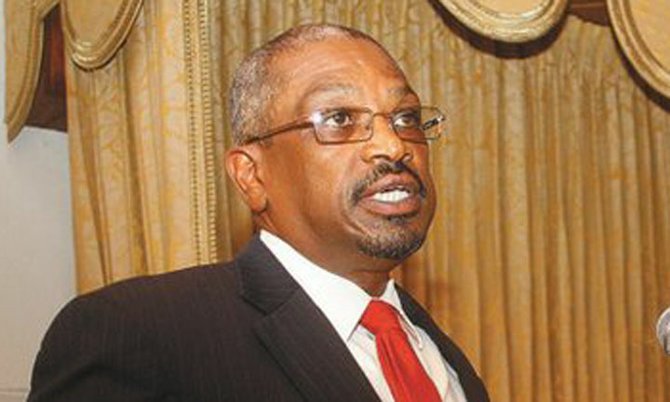 By KHRISNA VIRGIL
Tribune Staff Reporter
kvirgil@tribunemedia.net
IF PRIME Minister Perry Christie can admit to regretting the referendum on numbers, then Bahamians should be allowed to show they have changed their mind over electing the PLP, Opposition Leader Dr Hubert Minnis said yesterday.
Although the PLP are just four months short of holding office for two years, Dr Minnis wants a Parliamentary election to be called immediately.
He said: "If you want to change your mind in a democratic society, then allow the Bahamian people to change their mind. If you listen to the people on the street they too have regretted voting for them (the PLP)."
"Leadership is all about leading and making decisions that could benefit the country and acting in a way that is in the best interest of the country. As a leader you must  make sometimes difficult decisions, but you must be able to defend your decisions. He has demonstrated categorically that he is not a leader. A leader would have lived by what he had said because he would have known whether or not things could be implemented."
Speaking at the FNM's headquarters at Mackey Street, Dr Minnis also voiced his concerns about the government's efforts to win the majority stake in BTC. Bahamians have been waiting for Mr Christie to make an announcement on the subject for days.
It has been suggested by Mr Christie that members of the public could be offered shares in the company. Dr Minnis said the development was proof that the government is listening to the FNM.
"We have said categorically from day one that the nine per cent that was left there for the Bahamian populace, allow the Bahamian populace to buy those shares. They would have purchased those shares at yesterday's value and the values would have gone up today. They still can purchase those shares because that's in the regulations.
"No bank would refuse anyone knowing that they are going to buy a share today and tomorrow it's automatically doubled.  I only ask one thing. I want the Bahamian populace to listen to me carefully. This is an opportunity to spread some degree of wealth to the Bahamian populace.
"I want transparency not the same friends, lovers, (and) cronies. In the interest of transparency, once that is done, publish the names so that the Bahamian people can see who got it," Dr Minnis said.