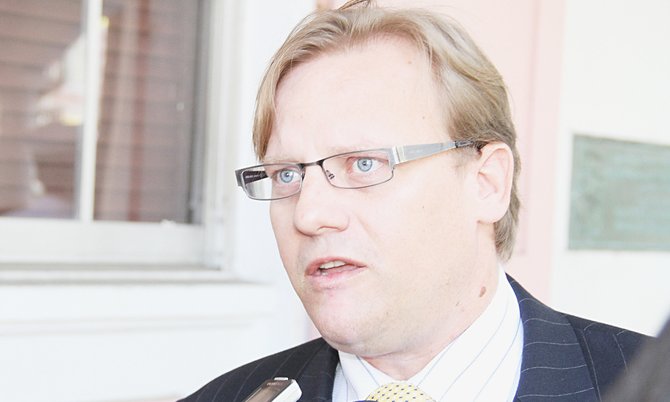 By SANCHESKA BROWN
Tribune Staff Reporter
sbrown@tribunemedia.net
MINISTER of Financial Services Ryan Pinder yesterday denied there was a rift between the Ministry of Financial Services and Ministry of Immigration over the handling of a UBS executive during an immigration road block.
Speaking outside of Cabinet, Mr Pinder said there was no bad blood between himself and the Minister of Immigration, Fred Mitchell, despite reports of their opposing views on the detention of Emmanuel Fiaux, the executive director of UBS Bank.
One day after Mr Fiaux was taken into custody and held at the Carmichael Road Detention Centre for not being able to produce proof of legal residency during a road block, Mr Pinder apologised to Mr Fiaux personally for the inconvenience.
Immigration Minister Fred Mitchell said he was confident that the immigration officers were just doing their jobs and were following the letter of the law.
Amid rumours of a 'rift' Mr Pinder said yesterday the two ministries were working very closely together and it was time for everyone to "move on".
He said: "There is no rift between the Ministry of Financial services and the Ministry of Immigration. Certainly not. We work very well together, we have been working very well together for the last 18 months trying to formulate proper administrative and policy reforms to try to advance the industry. There is no rift at all."
Mr Pinder also denied the government was giving special treatment to foreigners over Bahamians. He said his ministry's main goal was to empower more Bahamians in the financial sector.
"I am not going to go further into that, whatever statements were made. I take the position of UBS - it's over, let's move on, we have an industry to build, a country to build and opportunities for Bahamians within the industry to advance and develop. That's my focus. We continue to invest in Bahamians in the financial services industry. We are willing to prepare them for the advancement of this industry, that is the mandate of this government to develop the industry and that is what we continue to do," he said.
"I did not apologise to the institutions, I speak to them on a daily basis. I spoke to an individual. I was very clear on that but this is over, this was an issue and we are moving on, we have an industry to protect, an industry to grow an industry that is staffed by 85 per cent Bahamians. One we hope to have 100 per cent staffed in the future. That's the goal of this government, to grow the industry where Bahamians can have meaningful employment."