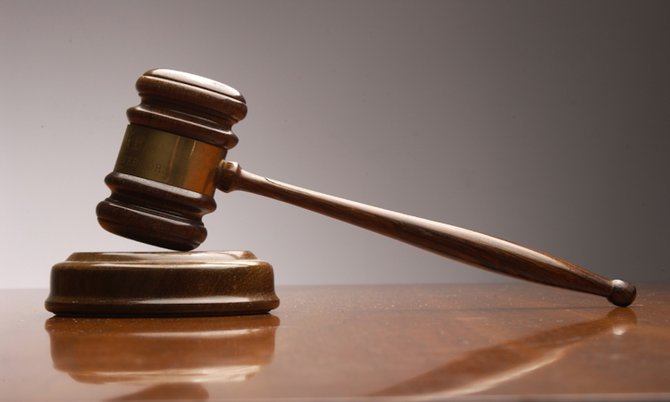 By LAMECH JOHNSON
Tribune Staff Reporter
ljohnson@tribunemedia.net
TWO men who claimed to be remorseful for the armed robbery of a Chinese convenience store were jailed for 10 years yesterday.

However, due to the time 36-year-old Ashwell Bain and 34-year-old Trevor Bowleg spent on remand at Her Majesty's Prison in connection with the March 24, 2011, armed robbery of Leam Fong Food Store, their sentences will be less.
Bain will now serve a little more than seven years in prison after 34 months on remand was subtracted while Bowleg will serve nine because he was remanded for a year before being granted bail.
On Tuesday, three days into their trial before Justice Vera Watkins, both men admitted the crime, while the Crown was in the process of producing security footage of the robbery, in which $600 belonging to the store was taken from a cashier.
The two men, one tall and the other short, entered the store, produced a handgun, and demanded that everyone get on the ground.
After they took money from the store's cash registers, they instructed the cashier and customers to remain on the ground until they counted to 100.
Following the guilty plea and formal conviction, Justice Watkins heard mitigating submissions from their respective attorneys Calvin Seymour and Raymond Rolle.

Mr Seymour said his client was remorseful for his actions, adding that Bain grew up fatherless and spent periods of time in the Boys Industrial School.
He said that within the time his client spent on remand at Her Majesty's Prison, his client had not broken any rules.
Mr Rolle also claimed his client was remorseful for what he did and was orphaned during childhood at the Ranfurly Home.
Crown prosecutors Charles Newbold III and Franklyn Williams, Deputy Director of Public Prosecutions, presented the court with criminal records for both convicts.
They were of the view that seven years in prison was appropriate.
While Bain had no prior convictions for criminal offences, Bowleg had four; stealing, possession of dangerous drugs, unlawful possession and causing damage, all occurring between 1989 and 2003.
The judge acknowledged that both pleaded guilty during the early stages of trial.
She added that both were young and avoided brushes with the law, though in Bowleg's case, his last conviction was a little over a decade.
However, she pointed out the aggravating factors, that the crime involved the use of a firearm that had the risk of serious injury or death to victims. In Bowleg's case, his previous convictions were similar to the current conviction.
In making a decision, Justice Watkins stressed that "armed robbery is a serious offence."
"Possession of a firearm while committing the offence presented inherent risks of death or serious bodily injury to the victims. I do note, however, that there is nothing before the court to suggest that any attempt was made to use the firearm to inflict injury on the victims.
"I note with interest, the fact that while both Bain and Bowleg have expressed remorse for their actions, neither Bain nor Bowleg have expressed any desire to rehabilitate themselves."
However, she went on to hope that the two "would take advantage of any rehabilitative programmes that are available to them at HMP."
She went on to sentence both men to 10 years imprisonment from the date of conviction adding that their time on remand will be subtracted from that.