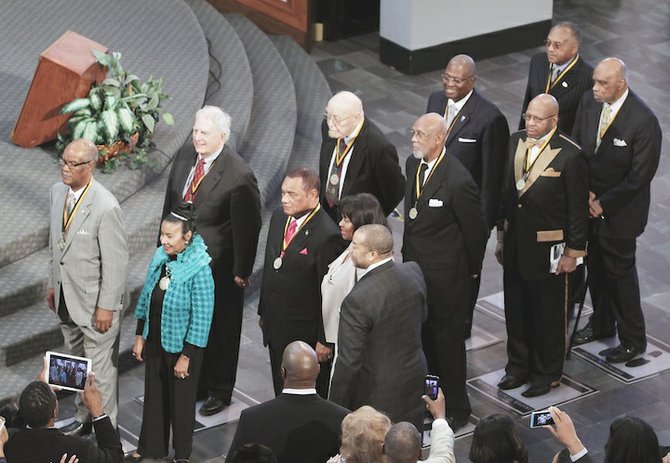 PRIME Minister Perry Christie was among ten people whose footprints were added to the International Civil Rights Walk of Fame in Atlanta, Georgia, over the weekend.
The event, held on January 24 at the Martin Luther King, Jr National Historic Site, included such people as Roy Barnes, Bishop John Hurst Adams, Dr Tommie Smith, Dr Norman Frances, Reverend Jasper Williams Jr, Dr John Carlos Sr, Representative Calvin Smyre, Thomas Todd and Harry Johnson.
While expressing that he felt "privileged" to be recognised in this way, Mr Christie said that as he reflects on his life, he is "humbled but astonished at what God has done for him and through him".
"As I think of the change that Dr King helped to bring about in this nation, and worldwide, in his brief but powerful life, I feel privileged to be named among past recipients of this great honour; illustrious persons of iconic stature such as Rosa Parks, Congressman John Lewis, and Presidents Lyndon B Johnson, Jimmy Carter and Bill Clinton. Now, I join my fellow countrymen – the father and founding Prime Minister of the Commonwealth of the Bahamas, the late Sir Lynden Pindling, Sir Sidney Poitier and Bishop Neil C Ellis – in this distinction."
"I have been shaped by the events of the era of the great Civil Rights struggle. I have adopted as my heroes the great freedom fighters of the United States, those of my own country, and those around the world," he said. "My heart swells with both gratitude and humility at the thought that I will be included in this International Civil Rights Walk of Fame."
Bahamian Consul-General to Atlanta, Randy Rolle, said this was a "proud moment" for the Bahamas.
"We are absolutely delighted that the Prime Minister has been honoured during the Trumpet Award celebration," said Mr Rolle.
"This type of recognition is indeed good for our country and so we embrace this opportunity with great pride and appreciation."
The Annual Trumpet Awards was conceived and founded by Xernona Clayton, and was created to recognize African American achievers and those who support the African American experience. The Awards honour accomplishments in a cross-section of fields, including politics, law, medicine, entertainment, civil rights, business, sports, entrepreneurship, and the Arts.
Prior to the induction exercise, a programme was held at the Ebenezer Baptist Church and was hosted by Frank Ski with WHUR FM (96.3) Radio in Washington, DC. Also in attendance at the ceremony were Minister of Tourism Obie Wilchcombe and Minister of State for Trade and Investments, Khaalis Rolle.