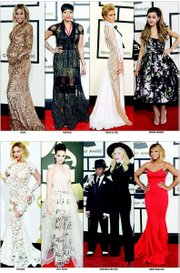 By LESH and FARAH
FASHION enthusiasts love this time of year, the beginning of the award shows season.
The real interest is deciding who made the "Best Dress" and "Worst Dress" list on the red carpet arrivals.
The 2014 Grammy Awards at the weekend brought out many sights.
Ciara
Lesh: I think she looked flawless. She is wearing this pregnancy well, and not all celebs can do that.
Farah: Ciara looked gorgeous on the Grammys red carpet!
Fantasia
Lesh: The is the worst I have seen her in a while. Her stylist must have been on vacation or off sick, I'm not sure.
Farah: Why would Fantasia wear such a hideous dress at the Grammys? After her superb performance on American Idol last year, I thought she was heading in the right direction with her fashion. She made me second guess myself.
Paris Hilton
Lesh: I think her makeup was nice and she looked very pretty in the face, but the dress is confusing.
Farah: Lovely dress. But why was she at the Grammys anyway?
Ariana Grande
Lesh: Very cute little girl, but I feel like she always looks exactly like this on EVERY SINGLE red carpet event. New stylist needed.
Farah: Was unimpressed when I saw her on the red carpet.
Beyonce
Lesh: "She woke up like this. I love the fit, but Rihanna wore something similar already at the Grammys, so it wasn't a wow factor.
Farah: Beyonce slayed this look. She was without doubt the best dressed of the night.
Katy Perry
Lesh: I think Katy looks cute, even with all the music notes and stuff.
Farah: I loved this dress. Beautiful and unique.
Madonna
Lesh: I just feel like Madonna was too extra.
Farah: Madonna took hints from her son. I loved her tailored suit. So edgy!
Tamar Braxton
Lesh: Hey Tamar! in her words Tamar was snatched and beat! She looked nice.
Farah: I have seen her look even better on the Braxton Family Values television show.