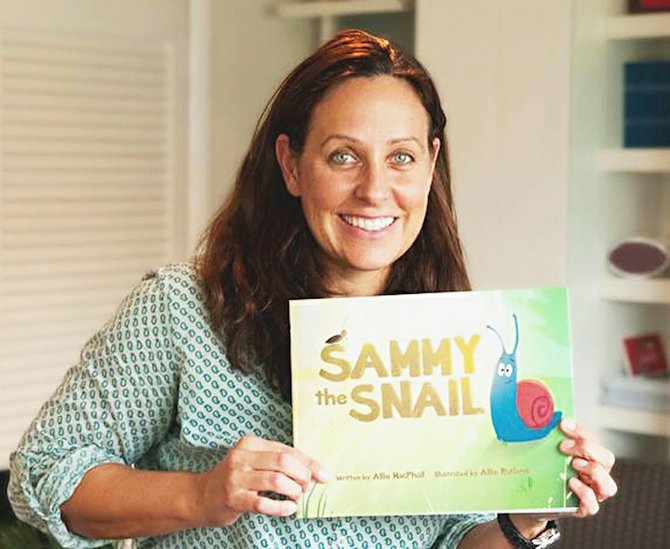 By ALESHA CADET
Tribune Features Reporter
acadet@tribunemedia.net
AS a marriage and family therapist, Allie MacPhail is familiar with hearing everyday stories about pain, hurt and other emotions.

The author told Tribune Arts, it is not a question of whether people experience pain, it is more what they choose to do when it happens.
The inspiration for her recently released children's book entitled "Sammy The Snail," grew out of this fifteen year career of watching her young patients rediscover the happiness hiding deep within when they opened up about their emotions.
"
So many of us try to hide our deep emotions, unsure and ashamed of their size," she said.
"'Sammy the Snail' does just that but it is inspired by a new snail in town who is brave enough to share his story with others. I have dedicated this book to a very dear friend and all my clients who are brave enough to share their stories with me," said Allie.
"
Sammy the Snail" is the story of a snail who, following a tragedy, begins to hide his emotions in his shell, making it harder and harder to get around. When a new snail moves to town, Sammy learns a new way to better handle his emotions and slowly is able to see the beauty in his own story. Allie said the book will inspire and encourage people to learn to carry difficult emotions in a new way.

"I would love this book to encourage everyone, children, teens and adults alike. I have included in this book a letter to the readers which encouraged them to follow some of the characters in the book and find a new way to hold their own story and perhaps even encourage others along the way," said Allie.

Despite the topic of difficult emotions, Allie said the book remains very child friendly. Illustrated by Allie Rutland, who is an animator from California, Sammy's story aims to touch hearts with its art work.
"It truly is a book for all ages but I designed it as a children's book to start impacting the next generation to what I hope is a more emotionally healthy generation. This book is my heart. Sammy was written eight years ago and over the years has been edited, revised and collaborated with my amazing illustrator. I would change nothing, Sammy is finally out and I am so very proud of this book," said Allie.

This Saturday, Allie will play part host to an autograph signing of "Sammy The Snail" during McHappy Hour at McDonald's on Marlborough Street, from 3.30pm to 4.30pm.

"McDonald's is proud to make this book-signing event possible as part of our ongoing commitment to children, but even more importantly, we want to get the book into as many hands as possible," said Earla Bethel, President of DanBrad Ltd, franchisee for the restaurants in New Providence.

"We know there are a lot of kids who are hurting – kids and kids at heart. Rather than confront our fears, we hide them. Often, those unresolved fears become unravelled in behaviours that either hurt ourselves or hurt others. It is our hope that this book will launch a paradigm shift in how we begin to change our society for the better, forever," she said.
"Sammy the Snail" is available at the following Bahamian locations to buy: Logos; The linen Shop; Doongalik Studio; Bahama Sol; Bahama Republic; Book World; The potting shed; My Favorite Things; Buy the Book; Chapter One; The Caribbean Center for Child Development; The Seahorse Institute; Miss Katey's in Freeport and it can also be ordered via the internet at www.turtlebackpublishing.com
In mid February, Allie said she is starting a 'meet the author tour.'
This is free and is offered to schools and clubs, where creative writing and overall literacy is the focus. Anyone interested in booking an event for Allie MacPhail to come to a class or group, can contact her at turtlebackpublishing@live.com for more information.