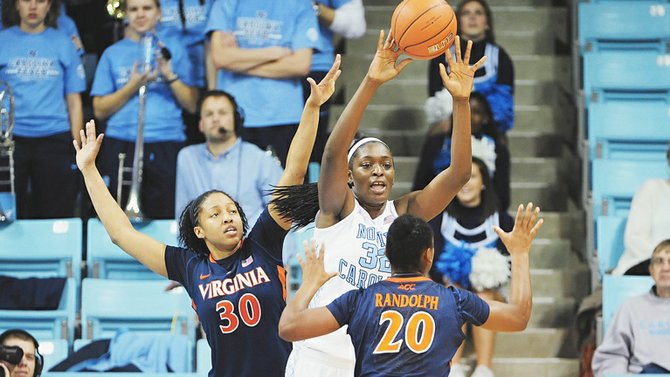 By RENALDO DORSETT
Sports Reporter
rdorsett@tribunemedia.net
THE move to Bulgaria has been a productive one for Bahamian basketball icon Waltiea Rolle as she has been one of the most dominant performers in the league since she made the move to the country's National Basketball League.
In her latest outing, Rolle posted yet another double double for her Haskovo 2012 Club. She finished with 25 points, 24 rebounds, two assists and five blocks in her team's 62-56 loss to Montana 2003.
Since she joined the club on January 9, Rolle has  averaged 23.8 points and 17.8 rebounds per game. With her performance she was again named the Eurobasket.com Player of the Week and for BGBasket.com - a website that hosts basketball in Bulgaria. 
After 20 games with DSK Karlin in Czech Republic, Rolle made the switch to the NBL in late December. In the 20 games she played for DSK, Rolle averaged 14 points, 9.2 rebounds and two blocks per game. She posted eight double doubles with the club with some of her top performances, including 20 points and 13 rebounds again Valosun Brno, 22 points and 15 rebounds in her first meeting against against Kara Trutnov in October and 15 points, 16 rebounds and seven blocks in her second meeting against the club in December. 
Rolle has taken the NBL by storm with double doubles and 20-point performances in each of her games thus far, despite the team going 1-3 in that time period. She opened her NBL career with 20 points, 12 rebounds and three blocks in a hard fought 74-72 loss to Levski.
Against the top ranked Dunav 8806, Haskovo lost 68-59, and Rolle led the team with 25 points and 19 rebounds. She was named the second best performer of the week for the NBL League because of her outstanding performance.
In an 85-62 win over Riski Sportist, Rolle earned the top performer award by BGBasket.com. She finished with 25 points, 16 rebounds, two assists and two steals.
The NBL is the highest professional basketball league in Bulgaria. It was founded in 2008 and previously called the Bulgaria A Division. The A Division is now the second level professional league in Bulgaria.
Rolle, 22, was drafted with the 36th pick in the Women's National Basketball Association (WNBA) by the Minnesota Lynx.
But the six-foot, six-inch centre, who attended HO Nash, CR Walker and Westbury High School in Houston, Texas, opted to complete her degree in sports administration and exercise sports science at the University of North Carolina. Her road to the WNBA is being paved by her decision as well to play in Europe for this year to gain some experience.
The mother of a two-year-old daughter, Carlisa, is managed by Xcel Management Group International, LLC, headed by Jacquie Rolle.
Xcel Management launched a fan page on Facebook dubbed Waltiea Rolle 'Rise of a Legend' where Bahamians can show their support by leaving an encouraging message for her before every game.