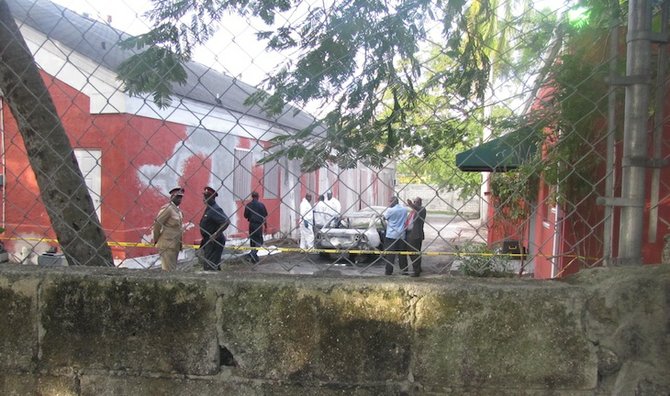 THE COUNTRY'S latest murder victim was on bail for rape and was also recently questioned by police in connection with three other sexual assaults, The Tribune understands.
On Wednesday shortly after 3pm, police say they received information that shots were heard at the back of the Dundas Centre for the Performing Arts on Mackey Street. When they arrived on they scene, they found a Honda Civic on fire.
After extinguishing the blaze, police say they discovered the body of a man in the passenger seat of the vehicle, burnt beyond recognition.
Police have not identified the victim, but sources say he is 30-year-old Nekos Felix Kemp.
Kemp, who was wearing an ankle monitoring bracelet, was out on bail charged with a rape that occurred in 2012. Sources say he was released from police custody earlier this week, after being questioned for a series of other sexual assaults.
Police are on the hunt for four men believed to be involved in the killing.
Anyone with information is asked to contact police at 911 or 919, the Central Detective Unit at 502-9991 or Crime Stoppers anonymously at 328-TIPS.
In other crime news, police are requesting the public's help in solving an armed robbery that happened at Wednesday.
According to reports, shortly before 10pm a man was sitting in his vehicle in front of his home on St Andrews Drive off Village Road when two men, armed with a handgun, robbed him of his black 2009 Honda Accord and sped off.
Investigations continue.