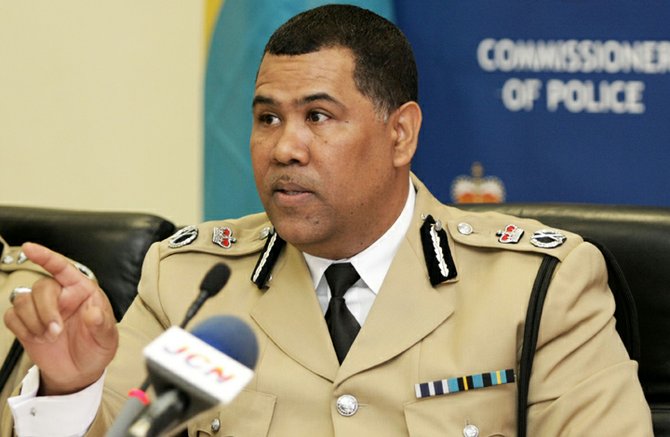 By SANCHESKA BROWN
Tribune Staff Reporter
sbrown@tribunemedia.net
COMMISSIONER OF Police Ellison Greenslade yesterday credited the decrease in major crime in New Providence to the arrests of several high profile prolific offenders.
The Commissioner said officers have been arresting and re-arresting criminals who should not "have been on the street in the first place".
"It is simply because we locked up a lot of people. We have arrested people who should have never been on the streets and moving on out into communities," he said.
"Yes, we have targetted them and arrested them and put them back in prison. If we keep them there, then the streets will remain quiet. Let me say that again: they should not be on the streets, among our people. They have committed serious crimes and we target them and arrest them. As long as they remain off the streets, it will continue to be quiet."
Commissioner Greenslade also commended the government for making amendments to the Bail Act to prevent persons who are out on bail for serious crimes, specifically murder, to be granted bail a second time when charged with another serious crime.
He said once prolific offenders are taken off the streets, crime will decrease dramatically.
Last month, National Security Minister Dr Bernard Nottage said statistics show that most major crime categories have decreased significantly.
However despite his claims that murders in New Providence are down four per cent, newly released crime statistics show that up to June 10, the murder rate across the Bahamas has actually risen this year by nine per cent to a total of 61, compared to the 56 recorded by that same date last year.
Yesterday, Dr Nottage said despite "what may have been said" he told the truth and crime is still trending downward.
He said: "Crime is still going down. We have people who say I haven't been truthful on the matter but it is the truth. I said that murders were down in New Providence and I also indicated the murder rate is up for the Bahamas, so I do not know why there is confusion. We do have some policies in place that seem to be having a positive effect and we should look at it and accept it for what it is. We are also continuously upping the ante and introducing more measures. I am hopeful that crime will continue downward and murders are decreased or eliminated."