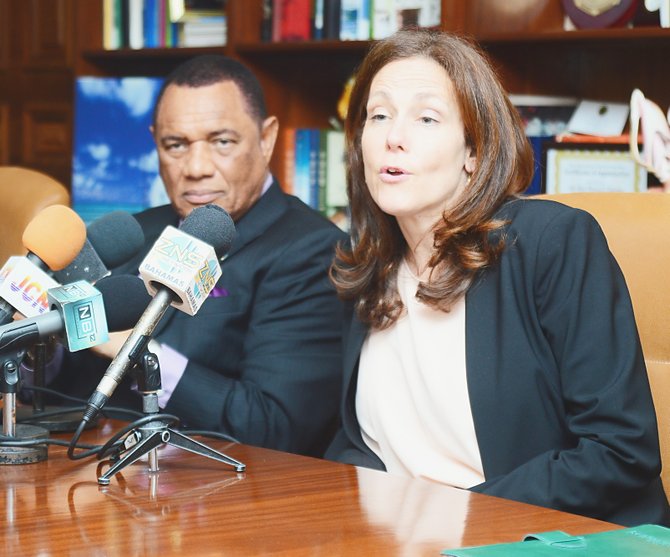 By NEIL HARTNELL
Tribune Business Editor
nhartnell@tribunemedia.net
Atlantis was yesterday said to be "savouring" its completed $1.9 billion debt refinancing, its owner having invested some $500 million in the property since taking control two years ago.
George Markantonis, the Paradise Island resort's president and managing director, told Tribune Business that the refinancing closure was "critical", as it removed a major distraction for management.
Confirming that he and his team, together with owner Brookfield Asset Management, could now focus on a five-year capital investment programme as an "immediate priority", Mr Markantonis said Atlantis had the platform for further major expansion.
Describing the resort as a unique "multi-dimensional destination", Mr Markantonis even hinted at a possible Phase IV expansion on Paradise Island, saying Atlantis possessed "a lot of land" and was receiving interest from potential brand partners.
The $1.9 billion recapitalisation, completed on schedule by end-June 2014, saw Brookfield and its institutional investor partners make a further $195 million equity investment in the resort.
Some $1.75 billion in debt financing is now secured on Atlantis and associated Paradise Island real estate holdings , via a seven-year fixed rate credit facility raised from a consortium of banks, pension funds and investment funds.
That, as Prime Minister Perry Christie indicated during the 2014-2015 Budget debate, has significantly reduced the leverage/debt overhang secured on Atlantis.
When Brookfield took over the property prior to the 2012 election through the 'debt-for-equity' swap worked out between itself and the other lenders on one side, and Kerzner International on the other, around $2.2 billion worth of debt was secured on Atlantis and the One & Only Ocean Club.
The refinancing has thus effectively reduced Atlantis's debt load by $400-$500 million, lowering debt servicing (interest) costs and likely freeing up capital/cash flow for further investment and amenity upgrades.
Mr Markantonis yesterday said the refinancing, and its terms, provided further evidence that Brookfield intended to be a long-term investor/owner in Atlantis and Paradise Island.
Acknowledging the "speculation" that surrounded Brookfield's intentions, which in some quarters had been rekindled by the One & Only Ocean Club sale, he told Tribune Business: "Brookfield have now invested around $500 million in this property.
"It's a very clear indication of their commitment to this country."
Mr Markantonis said the refinancing, and associated negotiations with new and existing lenders, had consumed much of the Atlantis management team's time and focus over the past year.
Indicating that at times it had been a distraction, he told Tribune Business that management could now re-focus their full attention on day-to-day operations at Atlantis, not meetings and travelling.
"I think it's critical," Mr Markantonis said of the debt restructuring's completion. "We've had a lot of resources dedicated to making this happen. We had most of the leadership team involved in some capacity.
"This is a process that's been going on for about a year, and I'm very confident we can now get on with the day-to-day business and plan for the present and the future. No more distractions."
Brookfield was able to refinance the Atlantis debt some two months ahead of schedule, given that the two-month extension to the existing credit facility was due to expire in September 2014.
The new seven-year debt facility also means that Atlantis management will not have to worry about getting back on the road for refinancing talks any time soon, as it provides the resort with greater breathing space.
"That is something the ownership group will be keeping an eye on," Mr Markantonis said of the restructured debt. "We'll be keeping an eye on the assets."
Also expiring is the two-year resort management contract that Kerzner International was granted for Atlantis. The former owner ceases to be the property's operator come September 2014, and it will be replaced by Brookfield's own wholly-owned subsidiary, Brookfield Hospitality.
This, in practice, is likely to make little difference, as the people will still be the same. Brookfield Hospitality will be headed by Mr Markantonis and his Atlantis team.
"Our immediate priority will be to look at a five-year capital investment plan and start figuring out how to improve this product and reinvent it going forward," Mr Markantonis told Tribune Business.
"It's still premature to talk about specific items. We've got to get down to it, and get on with it."
Mr Markantonis added that capital investments, projects and construction were ongoing at Atlantis, as the resort continually refreshes its product to keep the visitors coming.
Looking to the long-term, Mr Markantonis hinted at potential large-scale expansion and tie-ups with major partners.
"I'm very excited about it," he told Tribune Business. "We have a one-of-a-kind brand that has taken 20 years to become established. There is no other multi-dimensional destination like this anywhere.
"On top of that, there is a lot of land as well to expand this product, and a lot of brands that want to partner with this product. I'm very optimistic about the future."
Mr Markantonis added: "It'll be my same team that's going to be running this place. We intend to maintain and improve on standards we had before.
"It [Atlantis] has to evolve. No product can stay the same all the time. It evolves, reinvents itself. It's just fantastic that we can look to the future now and guide the way. For the moment we're going to savour the refinancing and get on with business."
Mr Markantonis said Atlantis was now "gearing up" for a July weekend that was "almost completely sold out", adding that the summer season was "looking strong".
He praised the Government's assistance with the refinancing, adding that all parties "rose to the occasion". And he agreed that Brookfield had received a good price in the $140.5 million sale of the One & Only Ocean Club to Ukrainian billionaire, Len Blavatnik's Access Industries.
The property is the last link that Kerzner International retains with the Bahamas, as its One & Only brand continues to manage the property.