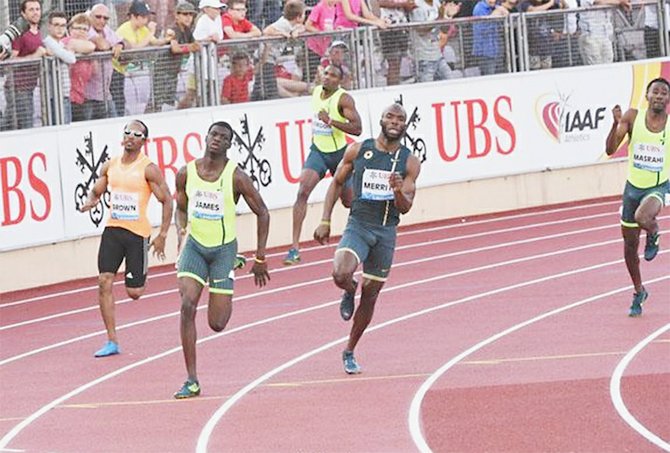 By BRENT STUBBS
Senior Sports Repoerter
bstubbs@tribunemedia.net
IN what turned out to be the fastest race for the year, Chris 'Fireman' Brown produced a season's best of 44.59 seconds for fourth place at the IAAF Diamond League meet yesterday in Lausanne, Switzerland.
The race saw Kirani James clock a world leading and Grenadian national record time of 43.74 to snatch the victory ahead of American LaShawn Merritt, who did his season's best of 43.92. Youssef Ahmed Masrahi of the Republic of South Africa had an Area record of 44.43 for third place.
Trailing Brown in order in what could have been a final at either an IAAF World Championship or Olympic Games was American Tony McQuay in fifth in 45.14, while Kevin Borlee of Belgium was sixth in 45.50 and American David Verburg picked up seventh in 46.00. Trinidad & Tobago's Lalonde Gordon faded in eighth place in 48.38.
"It was pretty good. In all things I give God thanks and praise for allowing me to go out there and run a healthy race in a season's best," said Brown in an interview with The Tribune from his hotel room. "I think with me coming home and not doing anything took a little bit out of my legs.
"I had to come here and compete against the best quarter-milers in the world. So that took a little something out of my legs. I didn't run my first part of the race like I normally do. I tried to play it safe. So coming into the home stretch, I had a lot of energy. Three people were ahead of me, so I just tried to hold onto what I had. I think I had a pretty good race and I was happy with the results."
With the focus placed on the matchup between the two world champions James and Merritt, Brown knew that it was going to be fast.
"Kirani ran a superb race and I think with him not racing much this year, I think it went in his favour," Brown said. "But everybody is in great shape at this time of the year. So on any given day, you can expect anything because you are going up against the world's best.
"This is what I tried to explain to the (Bahamas) federation, that I had a big race coming up. I couldn't take anything for granted. Now that they see the quality field I was up against, next time they will take some of it in consideration and think twice before they decide to change the schedule and make us fly home in vain. But overall, I'm still satisfied with the result and thank God for allowing me to get through it."
Brown, 35, was referring to the fact that he had submitted his entry only to run in the 200m at the Bahamas Association of Athletic Associations BTC National Track and Field Championships held last weekend at the original Thomas A Robinson Track and Field Stadium.
But when he came home, he was told that there was a change in the schedule, pushing the meet to three days instead of two. While he was not entered in the 400m that was ran on Saturday, the 200m was moved to Sunday when he had booked his ticket to fly back to Atlanta before he got prepared to leave on Wednesday for Lausanne.
The nationals also served as a last chance to qualify for the Commonwealth Games scheduled to be held in Glasgow, Scotland, July 23 to August 3.
"I haven't gotten any word on what they will do as far as the Commonwealth Games go," Brown said. "I need to know very soon because I've been invited to a few more meets leading into the Commonwealth Games. So I need to know as soon as possible so that I can plan my schedule as to whether I will run the 400 or just help my team-mates out in the relay."
From Lausanne, Brown is expected to travel to Budapest to compete on July 8 where the field is not expected to be a keenly contested one as it was in Lausanne. He is then scheduled to go to Glasgow for the Sainsbury Grand Prix on July 12 and then Monaco for the Herculis Grand Prix on July 18.
"Once I know how they will select the team for Commonwealth and what they will allow me to do, then i will determine if I go to Monaco, or I go back home and get myself prepared for the Commonwealth Games," Brown said. "I jhaven't been able to get in a solid training in the last few weeks."