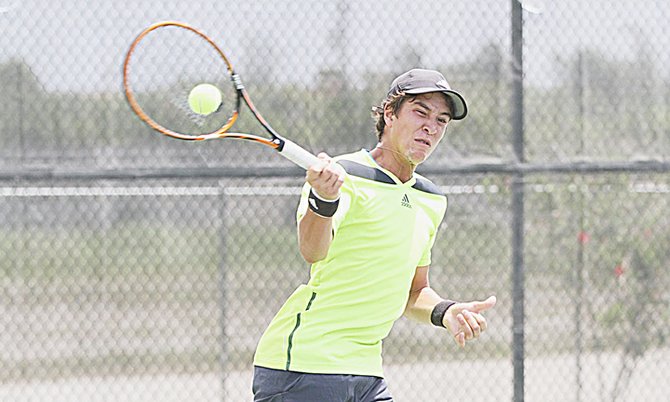 By BRENT STUBBS
Senior Sports Reporter
bstubbs@tribunemedia.net
SHANNON Francis and Iesha Shepherd, fresh of their victories as champions at the Bahamas Lawn Tennis Association's Junior Nationals last week, had mixed results in their first round matches as the International Tennis Federation's Junkanoo Bowl Junior Tennis Tournament got started on Monday at the National Tennis Center.
However, visiting top seeds Jack W Van Slyke and Jenna Friedel from Canada and the United States of America got through to the second round without any problems.
Meanwhile, in the Wilson under-14 Circuit of COTECC, the Bahamians are right in contention for the a shot at both the boys and girls titles.
Francis win over Cascante
Just after winning the boys 18's singles title at the BLTA Junior Nationals on Friday, Shannon Francis said he was looking forward to stepping up and performing very well at the IFT Jr Tournament. In his opening match, Francis sent Mauricio Cascante of Croatia packing with a 7-5, 6-3 victory.
"It was wonderful. I enjoyed it. At the beginning I started playing bad and I was missing everything," said the 17-year-old student of Queen's College. "But in the second set, I got into my rhythm and I started to play like I am capable of playing and I won."
Francis, who broke Cascante in the first game to go on to take the opener before he was broken, only to come back for the break for a 2-1 lead and again to seal the second set for the match, said he was even more motivated by the support that he got from the crowd on hand.
"I expect it to be tough, but I'm going to enjoy this as much as I can," said Francis, who will now face number two seed Agustin Moreno of Mexico.
Agustin, ranked at number 290 on the ITF junior circuit, won his first round match 7-5, 6-0 over Andrew Quiros from Spain.
Smith eliminates Shepherd
In what turned out to be a keenly contested match-up, Mia Smith of Great Britain had to dig down deep to get past Iesha Shepherd, who was coming off her double triumph in the BLTA's Jr Nationals in both the under-16 and under-18 singles finals.
Smith, ranked at No.692, took a 4-2 lead on a break and held on for the win in the first set. In the second set, Smith had built a 4-1 lead, but watched as the No.1729 ranked Shepherd got a break for a 5-4 deficit and she held and broke Smith again to surge ahead 6-5.
But after regaining her composure, Smith managed to break to tie the score at 6-6 to force the tie breaker.
In the tie breaker, Smith went up 4-3 and 5-4 before she pulled it off 6-4 for the win.
Another Bahamian eliminated was Erin Strachan, who lost 6-0, 6-2 to Haruna Tsuruta of Japan.
Friedel in two straight
Jenna Friedel of the United States showed why she's the top seed on the girls' side of the tournament, pulling off a huge 6-0, 6-1 win over Paloma Martinez of Mexico. The win came after Friedel spent some time enjoying the Bahamas' clear blue water on Sunday, as recommended by some of her friends.
"It was good. It was really hot and humid, but I still think I played very well because I prepared well for the tournament, so hopefully I can show that in my matches coming up," said Friedel, a resident of San Francisco who is ranked at No.225. "I just need to stay mentally tough."
Slyke had to endure three sets
It wasn't what Jack W Van Skyle expected in his return to the Bahamas. But the boys singles top seed, who lost in the second round to Bahamian Kevin Major in his debut last year, said he will take the victory, no matter how it came.The final results were 6-3, 3-6, 6-1 over Paloma Martinez from Mexico.
"I love the weather, the tournament is pretty good. I didn't play like I wanted too, but I hope to improve on that as the tournament continues," he said. "I didn't expect to go three sets with a guy that I barely know. I really had to step it up after losing the second set. When the opportunity present itself, I have to come in a lot more rather than waiting."
Ikolo impressive start
Coming in as the top seed in the under-14 division, Ukipioronfo Ikolo of Grenada wasted very little time on the court with Bahamian Tinajh Hinsey. Before the match started, Ikolo used his 5-feet, 11-inches frame to easily dispose of Hinsey in grand style 6-0, 6-0.
"This is my first time here and the tournament is okay. I expected a little more from the competition, but it's okay," said Ikolo, who is coming off victories in St. Lucia, St. Vincent, Trinidad & Tobago, Barbados where he's not lost a game. "It was a pretty good start. I hope to keep it going and make it six in a row."
Next up for Ikolo will be Serrio Tannick Finies, who won 6-3, 6-1 over Bahamian Jordan Minns. The other half of the draw will feature the top two Bahamians, national champion Jacobi Bain and runner-up Donte Armbrister. Unseeded Bain won 3-6, 6-0, 6-2 over Scott Redmond from Ireland and No.2 seed Armbrister out-lasted Amav Umesh of India 6-23, 6-7 (2), 6-0.
Gibson takes two sets as well
On the girls side in the 14's, Bahamian top seed Elana Mackey ousted Bermuda's Kayla Ming 7-5, 6-1 to advance to the semifinal.
"I felt good, I did good," said Mackey, the 11-year-old student of Nassau Christian Academy. "My attitude was to stay as focused as I could. I made a few mistakes, but I felt good about my performance."
Mackey, is now preparing to play fellow Bahamian Sydni Kerr, who had to go the distance for a 6-3, 7-6 (3), 6-0 win over Bahamian Afrika Smih.
"I know I'm going to win because I played her and I won once of the time."
On the other side of the draw, No.2 seed Sydney Clarke, also from the Bahamas, won 6-2, 6-2 over Alexi Humphrey.
"My performance was a little sloppy because I was too relaxed in my game," said Clarke, a 12-year-old from HO Nash Junior High. "My opponent was just returning the ball. She wasn't putting any pressure on me."
Clarke will now take on Bahamian Sierra Donaldson in the semifinal. Donaldson won 6-1, 6-4 over Imani Phillips from Bermuda.
"I am confident that I will win once I play my game," Clarke said. "I played her before and I won, but I still have to watch her and play my game."
Mickey Williams, the ITF Referee for the 18's division, said for the first time, there was a full draw in the qualifying round on Saturday and Sunday where they had to turn away players. Although it was only the first day of the main draw, he noted that there were no real surprises as the tournament start to increase.
As for the 14's tournament, ITF referee George Baxter said he's looking forward to some keenly contested matches. He noted that in addition to the main draw, there is also going to be a consolation round for those players who were the losers in the qualifying round, which adds to the excitement.
The tournament will continue today at 9 am with the remaining first round singles that wasn't played on Monday, followed by the first round of the doubles for both boys and girls.
In the boys' consolation round, top seed Mathias Delage of Canada won 4-2, 3-5, 10-8 over Bahamian Steven Wright, while David Gibbon of Bermuda upset No.2 seed Trenton Fowler of the Bahamas 4-0, 4-3. The girls' consolation saw top seed Donesha Gibson win 5-3, 4-0 over Bahamian Sari Albury and Bahamian Emma Weech won 4-1, 4-0 over Bahamian Maya Weech.
Other results of the boys' 18s main draw saw Marshall Dagostine win 6-2, 4-6, 6-4 over Dylan Hall; Takuya Kuriyama of Japan def. Bahamian Treajh Ferguson 6-3, 7-6 (0); American Boris Kozlov def. Bahamian Dylan Walker 6-1, 6-3; American Mwendwa Mbithi def. Bahamian John Kelly 6-2, 6-2; Nicolas Moreno de Alborain def. Jorge Ortegon 6-3, 6-4; Luis Eduardo Morfin Friebel of Mexico upset No.3 seed Stephen Madonia of the USA 7-6 (4), 6-0; Juan Carolos Agulilar def. No.8 seed Gerado Cardenas of Mexico 6-0, 6-5; Eduardo Paz def. Bahamian O'Neal Mortimer 6-1, 6-1; William Kirkman def. No.5 seed Daniel Maese of USA 6-4, 6-4 and Agustin Moreno def. Andrew Quiros 7-5, 6-0.
On the girls side, some of the other matches saw Nia Rose of Jamaica def. Angela Dahnous of Canada 6-3, 6-4 and Maria Jose Ramirex of Mexico def. Karla Portalatin 6-3, 6-3.