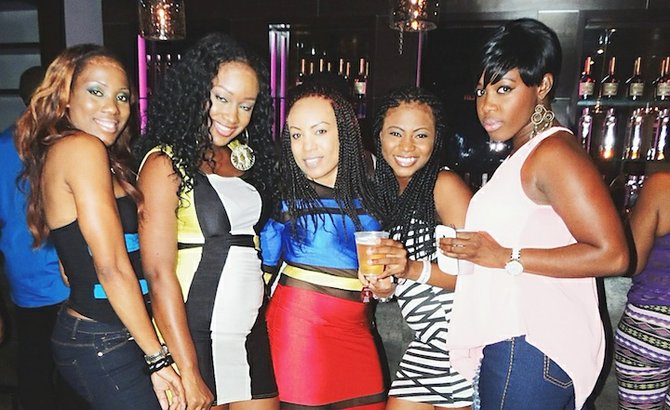 By ALESHA CADET
Tribune Features Reporter
acadet@tribunemedia.net
FIRST FRIDAYS is back, but this time around it is "on Bay'.
Highly anticipated by party-goers back in the day, First Fridays was a series of events to look forward to every summer.
This year, local party promoter James Omar of J O Entertainment decided to bring the event to the Bay Street area, at Island Smoke House, and it's bigger and better than before.
Last Friday was the official kick-off for the "First Friday on Bay" series. The event featured deejays Da Butler, Daddy AJ, DJ 2 Short and King D-ano, as well as Bahamian rapper Travis Bowe.
Celebrating the American Independence theme, the event also offered a view of the Atlantis's July 4 fireworks display.
"Back in the day when this event was done everyone use to be excited about First Fridays. It was done at different locations, but with the lack of venue in the Bahamas now, I decided to solely host it at Island Smokehouse. If we had more venues in Nassau it could have be done like the old days, but nowadays venues are hard to find. Being employed at Island Smokehouse, I had the opportunity to book the venue upstairs," James told Tribune Arts and Entertainment.
He said First Fridays is an upscale event for Bahamians who do not party that often. James said these people can now feel comfortable enough to attend First Fridays as it is held in a safe environment and friendly atmosphere.
"There is always going to be great music and every first Friday we are going to change the theme, as well as change up the line-up of deejays. When I attended it back in the day, this was the only event that I always looked forward to going to. The people that went there only went to have fun, nothing else. Everyone was dressed to impress, there was no confrontations or fights, just a beautiful set-up. As you walked in you would have seen the room decorated with paraphernalia from whoever sponsored the event, whether it was Heineken or other brand names; it was like a celebration every month. You might not have gone out that entire month, but you looked forward to that one Friday to celebrate," said James.
With an built-in J O Entertainment following, James said there are a lot of people who have high expectations of his events.
"I have a lot of people close to me who help push this event like Phat Groove Entertainment, 4Ever Entertainment, More FM and many others, so when people come they know they can expect a show. Most known for my champagne parties, I could knock on wood and say that I never had an incident at any of those. So people who are familiar with my events, they know what to expect. I am 36, and for everyone that has been partying with me over the years, they enjoyed themselves from what I have seen and been told," he said.
With the goal to take First Fridays on Bay to the next level, James said he can see it carrying on for another year or two.
"I have a little group that I formed for the event that has everyone doing what their job encompasses. We are going to continue to put our heads together and make sure that the event stays fresh.
With this party, they keyword is safe. This is for the grown and sexy. This is not for the younger generation. Now, if they do decide to come, they are going to have to blend in with the grown folks. It is not that kind of party where the grown folks have to blend in with the youngsters," said James.
He said he is pushing for guests aged 28 and over to attend the event because there is a void in the partying market for those people.
"They don't feel safe going out and they feel like there is not a right partying venue for them to attend, and I am looking to change that," said James.