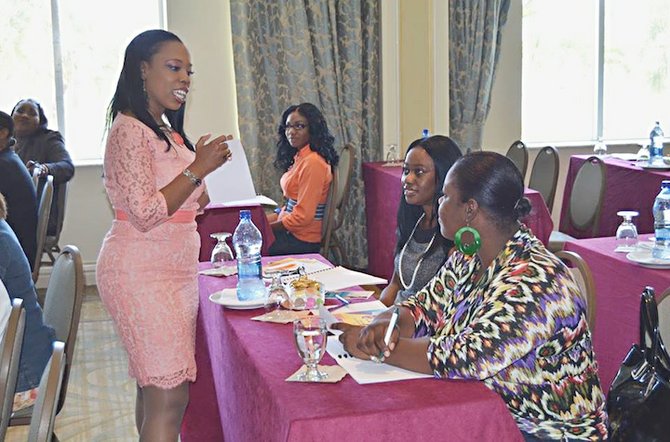 By ALESHA CADET
Tribune Features Reporter
acadet@tribunemedia.net
THERE is power in refusing not to settle and compromise your value. As a result, inward value produces outward value.
This is a message that Bahamian leadership coach, relationship mentor and author Sherika Brown aims to spread with her popular "I Am Worth It" programme and seminars.
In May 2009, Ms Brown received the 10th Bahamas National Gospel Excellence Award in the 'Women of Influence Category' in recognition of her commitment to impacting the lives of those around her. She is also the author of the book "The Principles and Purpose of Relationships", released in July 2011. She presently serves as a minister at Word of Life Kingdom Ministries under the leadership of Pastor Rickeno Moncur.
She told Tribune Woman that her coaching programme is designed to assist women in identifying what exactly it is on the inside of them that gives them value – their unique gifts, skills, talents, abilities, passion, purpose and everything that defines and separates them from everyone else.
The ongoing six-week programme strives to give Bahamian women a sense of confidence to not be afraid to be who they really are at all times.
One "I Am Worth It" participant, Dira, said the event was uplifting, motivational and timely. She said Ms Brown is a powerful motivator and life coach who has assisted her with changing her perspective on how to accept things that happen in her life.
"I enjoyed the various areas of discussion that we engaged in, such as outlining our goals for the next 90 days that we will aim to achieve. Our discussion on rejection, which she advised should be seen as God's way of protecting us, also made me accept that when one door closes a better one will open. The event was a great investment in my future. I left feeling revived and my outlook on life has changed," said the inspections officer.
Ms Brown said there is a lot to the programme, and she has hosted events in several different ways. Whether it is one-on-one coaching with an individuals or group sessions, Ms Brown said it is all about recognising what is important – a woman's value.
"We deal with whatever has been frustrating or keeping you stuck, and we develop a plan on how to redesign your life so you can live at your greatest value. I have had someone that just came out of the programme and two of the areas that they were struggling with were in the area of their relationship and their job. They didn't have confidence in their ability and they were dealing with some personal challenges on their job," said Ms Brown.
After working with the person and her image of herself, Ms Brown said she found that the way the person saw herself was as a woman had a lot to do with her value.
"I helped her change her total physical image. I dealt with cultivating her femininity and dealing with anything in her life that may be frustrating or minimising the things that make you feminine as women. I found that when I did that, her personality came alive and she also said that she saw a change on her job because she felt good about herself and what was going on around her didn't affect her as much," said Ms Brown.
The life coach said she has heard several testimonies from participants in the coaching programme and everyone's needs and challenges have been different.
Sharing her thoughts on the programme, Inga McQueen said she felt empowered, refreshed and motivated.
"The 'I Am Worth it' session two did this for me; it reminded me that I am chosen, I am the righteousness of God and I can do all things through Christ who strengthens me. Thank you Sherika Brown for allowing God to use you in such a powerful way to motivate, inspire and help push others into what God has called and chosen us to be. Manifestation is on its way," said Ms McQueen.
Ms Brown said the six-week programme has been geared more towards a goal-setting and achievement workshop.
Asking participants to look at three things that they want to accomplish over a period of 90 days, Ms Brown said she then asked them to look at the steps that they need to take in order to accomplish those three things.
"I find that rejection is one of the major things that has been keeping people back on all levels. I found that it has been keeping people stunted in every area. That is something that we had to tackle in the recent workshop. We had to come up with ways on how to deal with rejection and see it in a good way. I believe that everyone has something that God has put on the inside of us that makes us distinct. We have a significance that makes us irreplaceable in every situation," she said.
With programmes like 'I Am Worth It', Ms Brown said she is removing every barrier that maybe frustrating or hindering Bahamian women in their development. Through the programme, the women's thinking now aligns itself with what they are trying to achieve.
Next up on Ms Brown's to-do list is her upcoming "Summer Sizzler and Relationship Mixer" at Atlantis, Paradise Island, on July 26. She said the event is geared towards successful, single women who may be struggling in relationships.
"I found that some women have success in their careers, business and in ministry, but struggle with relationships. They tend to settle or compromise their value just to be in a relationship and in the end they end up losing. You don't have to settle for abuse and be mishandled in any kind of relationship to just say you are in one. How do you get that relationship that reflects your value? That is what this event is about," said Ms Brown.
For more information, e-mail connect@sherikabrown.com or call 323-3922.