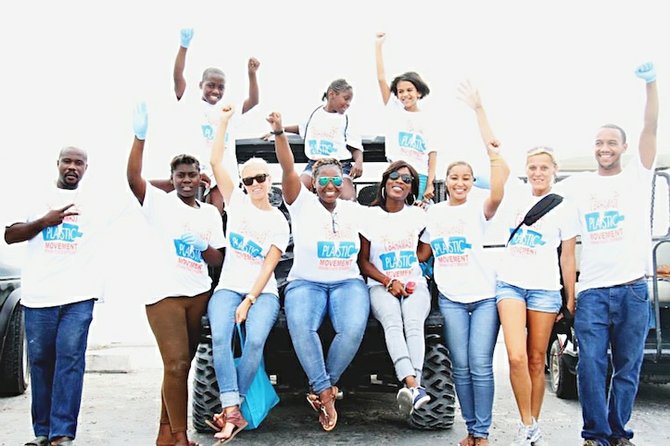 By JEFFARAH GIBSON
Tribune Features Writer
jgibson@tribunemedia.net
A YOUNG Bahamian scientist has two big dreams – to pursue her educational aspirations and to make the Bahamas plastic-free within the next few years.
However, without financial assistance, Kristal Ambrose, who specialises in the field of marine biology, will have to put her educational goals on hold once again and sit out the upcoming fall school semester.
Over the past seven years, Kristal, who is sometimes known as "Kristal Ocean", has worked as a researcher, educator and dive master, exerting her efforts to enhance environmental preservation locally.
Now, she is eager to embark on further studies at the tertiary level to hone her skills and expand her knowledge.
Kristal was recently accepted into Gannon University's combined Bachelor and Master's programme with a focus on Environmental Science. Given her extensive background in the scientific field, in addition to having an Associate's Degree in Fisheries Management and Aquaculture Sciences, she is expected to complete both programmes in less than four years.
While Kristal has been granted a scholarship to the Pennsylvania university, it only covers a small portion of her $41,062 tuition. She has applied for other scholarships, but is still awaiting confirmation.
To assist with tuition expenses, Kristal has launched a crowd-sourcing campaign to raise money to return to university in fall.
Crowd-sourcing is the process of obtaining needed services, ideas or content by soliciting contributions from a large group of people, for example an online community. She hopes to raise a minimum of $20,000 by the end of summer.
"Initially, I wanted to attain my Bachelor's in Marine Biology, but it was not until joining an expedition to study plastic pollution in the Pacific Ocean in 2012 that I switched my focus to Environmental Science. Plastic pollution is a pressing issue globally, and here in the Bahamas as well. By undertaking this field of study I will be able to create ways to mitigate the threats of plastic pollution to our eco-systems and provide economically viable solutions also," Kristal told Tribune Woman.
With only a handful of Bahamian marine biologists, Kristal believes her skills and educational background can be utilised locally for a ecological work.
"I am driven and extremely passionate about protecting the natural environment of the Bahamas. Although this may sound cliché I believe that my work and record speaks for itself. Since embarking on the journey of creating a pollution aware and a plastic-free Bahamas, I have successfully engaged over 375 citizen scientists in my plastic pollution, including Bahamian high school students, through workshops and scientific conferences. Those willing to support will not only support my education, but make a significant contribution to the future of our natural resources as that is what I am aiming to protect. By investing in me, you are investing in the future of the Bahamas," she said.
A few years ago, Kristal founded the Bahamas Plastic Movement (BPM), a non-profit environmental organisation committed to raising awareness of plastic pollution through research, education, citizen science and policy changes. With a vision of empowering Bahamians to create a plastic-free Bahamas, BPM aims to raise awareness of plastic pollution through education and outreach programmes while continuing scientific research efforts throughout the islands to help implement policy changes regarding plastic products and recycling.
The organisation also hopes to engage students and the wider Bahamian community in science research geared towards marine debris, promote individual ownership over plastic waste,  and encourage government, corporate organisations and local businesses to rethink and reduce plastic pollution through product replacement and proper recycling initiatives.
"Upon completing university, I intend to return home to the Bahamas to continue on with environmental work through my non-profit organisation, the Bahamas Plastic Movement. While away at university I will continue working on initiatives regarding plastic pollution mediation for the country. Post-university plans include, but are not limited to, a national plastic pollution awareness campaign, national citizen science programmes within all schools, several scientific research projects surrounding the issue and implementing a proper waste management and recycling programme within the country.
"The best way for me to utilise my skills within the country is to share them with Bahamians. Mitigating the threats of plastic pollution is a task that I cannot do on my own. I intend to reach every student, layperson, citizen, etc, that resides within this beautiful country to lend a hand. I will use my skills to empower Bahamians to work towards creating a Bahamas free of plastic debris," she said.  
Kristal embarked on a journey across the Pacific Ocean a few years ago to study plastic pollution in of the so-called "Western Garbage Patch", a collection of marine debris in the northern Pacific. Her entire journey was documented on a blog.
To assist Kristal, visit www.gofundme.com/kristaloceandegree.