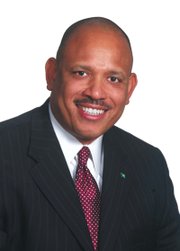 By KYLE WALKINE
Tribune Staff Reporter
kwalkine@tribunemedia.net
FREE National Movement Deputy Chairman Dr Duane Sands believes Gaming Board Chairman Dr Andre Rollins has been "effectively gagged" by senior members of the government over upcoming webshop legislation, particularly with increased concern over discrimination in the Gaming Bill.
In an interview with The Tribune, Dr Sands said he believes Dr Rollins' recent silence on the controversial web shop bill is an order from higher members of the Progressive Liberal Party (PLP) government so that they can appear to be "speaking with one voice".
"I wouldn't be surprised to know that the whip is on and that there will be no dissent tolerated whatsoever," the FNM Deputy Chairman said.
"The PLP has found itself under siege. In the face of all the challenges facing our country, the resolution of the web shop industry is now the ultimate priority for them and they're going to accomplish this come what may.
"They've all sat down and have been given the lines. They've now rehearsed them and are now performing. Sadly, Rollins' role is a silent one."
Dr Rollins, on numerous occasions, has publicly disagreed with certain stances the government has taken.
Last November, he voiced his disapproval of certain portions of an earlier draft of the proposed Gaming Bill saying at the time that it "makes no sense" modernising the gaming industry for foreigners while leaving Bahamians out.
The FNM Deputy Chairman said he would even go so far as to say the statement of the day within the government is "group speak".
"I think that the stakes for successful conclusion of this matter has phenomenal impactions for this government," he said.
"Certainly the belief that they had made a commitment to the industry to get this legislation through is so evident that even the Prime Minister seems to have been willing to discard a national referendum equivalent in order to achieve an end.
"It seems as if the Prime Minister was prepared to go on as far as to deceive the Bahamian people to say that he had no position in this matter."
Dr Sands said he is now left to wonder whether regulating webshops has become the single most important activity for the government.
There is no word as yet as to when the web shop legislation will be tabled. Last Tuesday, Tourism Minister Obie Wilchcombe said he hoped the bill will be brought to Parliament this month.