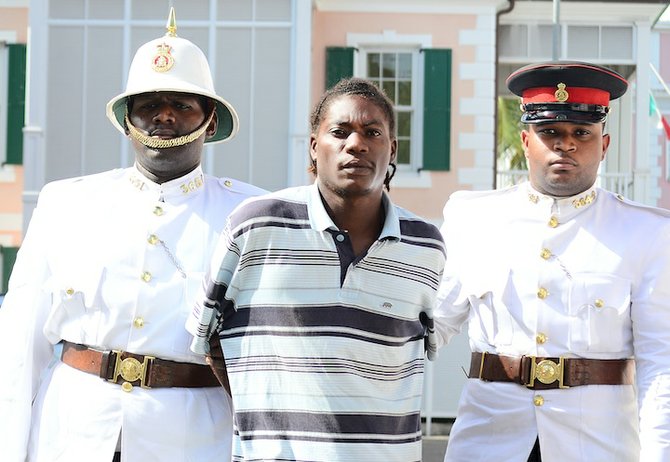 By LAMECH JOHNSON
Tribune Staff Reporter
ljohnson@tribunemedia.net
A MAN convicted of statutory rape was told by a judge yesterday that he should not be preying on young girls given that he was a father with a purported girlfriend.
Alban "Medico" Johnson, who was found guilty by a 9-0 verdict of unlawful sex with an underage girl - aged 14 - last week, faced life imprisonment when he appeared before Senior Justice Jon Isaacs for sentencing for his actions during the May 31, 2013 incident.
However, the judge did not think that the maximum sentence was warranted in Johnson's case and sentenced him to nine years and four months in prison. This took into account that Johnson had been on remand for eight months awaiting trial.
Bernard Ferguson, Johnson's lawyer, said "this case was basically his word against the virtual complainant's word and he's a bit distraught by this situation and he's going to take the next step."
Confirming that Johnson intended to challenge the conviction to the Court of Appeal, the lawyer said his client "thought he would have gotten a different result in the trial, but unfortunately it did not happen."
Johnson was alleged to have picked up the girl from a settlement on a Family Island and had sex with her in a van. In his testimony, Johnson admitted that he and a friend picked up the girl, but denied any claims of a sexual encounter.
Senior Justice Isaacs, during his summation to the jury, noted that there was no forensic evidence linking Johnson to the alleged incident, despite the defendant giving permission for biological samples to be taken from him as well as a rape kit being performed on the complainant.
He added that supporting evidence is normally expected when seeking to convict in matters of sexual nature, but said it did not mean that a guilty verdict could not be arrived at. He noted that the Crown's case was one of corroboration between the complainant's evidence and that of the other female in the car.
In yesterday's sentencing hearing, Mr Ferguson made a brief mitigation plea on his client's behalf. He said that while Johnson "is convinced in his heart that he is innocent", he was still "remorseful for what would have happened to the virtual complainant."
"This would be the first time he's had a brush in with the law," the lawyer said, asking for the court's leniency with a promise that "such a mistake would never happen again."
After it was confirmed to the court that Johnson had no previous convictions, Senior Justice Isaacs addressed the 32-year-old convict.
"Undoubtedly you knew she was underage, it appears you took advantage of this young woman. You have caused her to go through a second trauma; to come to trial and relive that experience," the judge added.
"You're a man with children or at least a child. You purport to have a girlfriend. You really ought not to be preying on young girls," Justice Isaacs said.
Algernon Allen II and LaNell Williams prosecuted the case.