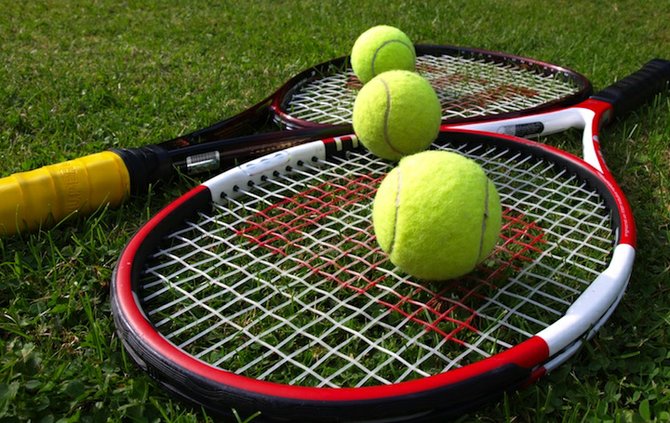 ELANA Mackey was the lone Bahamian to win a singles title as the Bahamas Lawn Tennis Association's 2014 International Tennis Tournament came to a close at the National Tennis Center on Saturday.
Mackey, the top seed, pulled off a 6-1, 6-2 decision in an all-Bahamian final in the girls under-14 singles over arch rival Sierra Donaldson. Mackey advanced to the final wirth a 6-1, 6-4 win over Sydni Kerr, while Donaldson upset B No.2 seed Sydney Clarke, 6-4, 7-5 in their semifinal match-ups.
In the consolation final that saw the losers from the qualifying round given another chance to play for a lesser title, top seed Donesha Gibson won the girls 14s crown over No.2 seed Emma Weech 4-0, 4-0 in another all-Bahamian final.
Sydney Clarke and Elana Mackey, the top seeds, won the girls 14s doubles 6-1, 6-2 over No.2 seeds Sierra Donaldson and Afrika Smith in another all-Bahamian final.
Top seed Ikolo Ukiploronfo of Grenada went through another tournament by not losing a set as they won 6-4, 6-3 over Bahamian junior national champion Jacobi Bain 6-4, 6-3. Bain upset No.2 seed Donte Armbrister 6-4, 3-6, 7-5 in their semifinal match.
In the boys 14s consolation, Bermuda's David Gibbons got his second upset when he beat top seed Mathias Delage from Canada 4-1, 4-2. On his way to the final, Gibbons knocked off No.2 seed Bahamian Trenton Fowler 4-0, 4-3.
Jacobi Bain and Ikolo Ukiploronfo, unseeded, knocked off No.2 seeds Donte Armbrister and Joirdan Minns, both from the Bahamas, 6-4, 6-1 in the semifinal before they upset top seeds Serrio Yannick Finnes and Scott Redmond 7-6 (2), 6-4 in the final.
The 18s boys and girls singles left the country as Mwendwa Mbithi, and Jenna Friedel emerged victorious.
On the boys side, No.4 seed Mbithi won 6-2, 6-0 over Friebel Morfin from Mexico 6-2, 6-0. On his way to the final, Mbithi went the distance for a gruelling 6-3, 2-6, 7-6 (3) win over top seed Jack Van Slyke in the semifinals, while Morfin won 6-1, 7-6 (9) over No.2 seed Agustin Moreno, also from Mexico.
Mwendwa Mbithi and Jack Van Slyke, the top seeds, won 6-3, 6-1 over the Bahamian unseeded duo of Christian Cargill and Treajh Ferguson.
On the girls' side, top seed Jenna Friedel from the United States took care of unseeded Ramirez Portillo 7-6 (5), 7-5. No.2 seed Elysse Graci of the USA got eliminated from the first round.
And in the girls 18s doubles, unseeded Blanca Vanessa Andreescu and Maria Tanasescu, both from Canada, won the title 7-5, 3-6 (11-9) over No.3 seed Elysse Graci and Naomi Idells Waters from the United States.