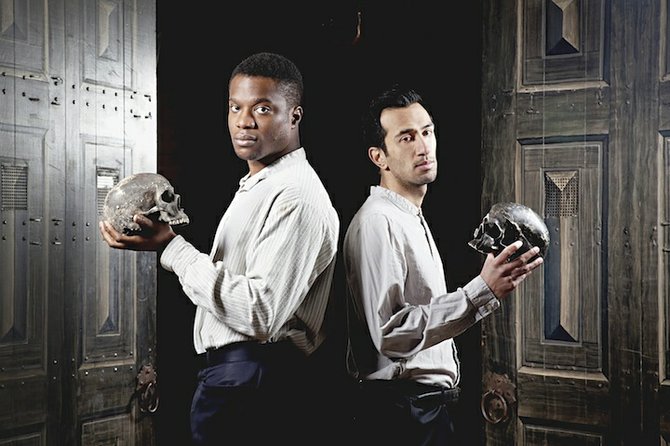 FOR one night only, the Dundas Centre for the Performing Arts will present Shakespeare's "Hamlet" performed by actors from The Globe in London
Produced in Nassau by Kim Aranha of the Yellowtale Theatre Company (Bahamas), the play is being put on in association with Shakespeare in Paradise on Tuesday, August 5.
Known as one of Shakespeare's greatest plays, this production of "Hamlet" is touring every country in the world to mark 450 years since the Bard's birth. This production, described as very "theatrical and extremely accessible", is directed by Dominic Dromgoole, artistic director of Shakespeare's Globe Theatre in London, and Bill Buckhurst.
Local organisers say this will be a once-in-a-lifetime opportunity and tickets are on sale now at the Dundas Box Office.
"I think this is culturally and theatrically one of the most important things that happened to the Bahamas. The Globe is a leader in Shakespearean theatre. It was the home of Shakespeare. They are doing a world tour to celebrate his birth, and they contacted me. We felt this was so important that we had to just have to make it happen," Ms Aranha told Tribune Arts and Entertainment.
At the St Lawrence Shakespeare Festival in Ontario, Canada, all tickets for the show sold out in less than an hour for the performance on August 2.
The critically acclaimed production is a fresh, pared-down version of Shakespeare's classic tragedy of deferred revenge. The company of 12 actors and four stage managers will use a completely portable set to stage a "Hamlet" that celebrates all the exuberance and invention of Shakespeare's language in a brisk two hours and forty minutes.
"I think when Shakespeare is performed by the people who perform him on daily basis you see it completely different. After watching for half hour you do not even recognise that the language they use is not the language of the day. I think by bringing it here people will see it in a different light," Ms Aranha said.
The role of Hamlet will be shared by Ladi Emeruwa and Naeem Hayat. All other male and female parts will be played in rotation by Keith Bartlett, John Dougall, Miranda Foster, Phoebe Fildes, Beruce Khan, Tom Lawrence, Jennifer Leong, Rawiri Paratene, Matthew Romain and Amanda Wilkin.
"The six simplest words in the English language are "to be or not to be". There is hardly a corner of the planet where these words have not been translated. Even in English, those who can't speak the language will at once recognise the sound and exclaim 'Shakespeare!' 'Hamlet' is the most all encompassing of Shakespeare's plays. Everyone, young or old can today find an immediate identification with its characters, their pains and their interrogations. To take Hamlet in its original language around the world is a bold and dynamic project. It can bring a rich journey of discovery to new audiences everywhere," said theatre director Peter Brook.
The Globe's Artistic Director Dominic Dromgoole said: "In 1608, only five years after it was written, 'Hamlet' was performed on a boat – the Red Dragon – off the coast of Yemen. Just 10 years later it was being toured extensively all over Northern Europe. The spirit of touring, and of communicating stories to fresh ears, was always central to Shakespeare's work. We couldn't be happier to be extending that mission even further. By train, coach, plane and boat we aim to take this wonderful, iconic, multifarious play to as many fresh ears as we possibly can."
The play tells the story of Hamlet, Prince of Denmark, who has not succeeded his father ask. On the throne is his uncle Claudius, who married Queen Gertrude immediately, upon the death of her husband, the first King Hamlet.
At midnight the ghost of the dead King appears to his son on the battlements of the castle and commands revenge.
Hamlet, unsure at first, simulates madness and asks for a performance of a play with a plot much like his father's murder, so that he can see how the King responds. Claudius, deeply alarmed, plans to send Hamlet to England. However, before Hamlet leaves, he kills Polonius (the father of Ophelia, the woman Hamlet loves) who is hiding behind a curtain in Gertrude's room.
Two messengers conduct Hamlet towards the voyage to England, bearing letters that order his death when he arrives. Ophelia's brother Laertes, enraged by the news of his father's death, finds that his sister is helplessly mad, and swears to kill Hamlet. Ophelia drowns herself, and Hamlet returns to Denmark in time for her burial. Later, at a fencing match where Laertes seeks to stab Hamlet with a poisoned rapier, both men are wounded. Queen Gertrude drinks, in error, the poisoned wine Claudius has prepared for Hamlet. Laertes and Gertrude die; Hamlet, after killing Claudius, collapses in the arms of his friend Horatio and dies.
Ms Aranha said it has been challenge getting corporate sponsors for the event.
"I have not been able to find one sponsor and we have asked for sponsorship from $5,000 all the way down to $300. The only hotel that stepped forward to give us some room was Sandyport Beach Resort. It has been an incredible challenge. The government entities, however, have been very helpful. We are still extending an invitation to sponsors," she said.
Despite the lack of corporate sponsorship, Ms Aranha said the response from the community is already looking promising.
"We have already sold 86 tickets and in the Bahamas, as we know, people rarely buy tickets in advance because we are kind of last minute, so that in itself shows you that there are people out there that realise the cultural value of this," she said.
Tickets for the play at the Dundas are $100 for premium seats, including a food and wine reception with members of the Globe company. Regular tickets are $60 and student ticket sponsorship is available.
Interested persons can call the Dundas box office at 393-3728 or 394-7179 from 10am to 4pm, Monday to Saturday.
Those interested in sponsoring the event can contact Kim Aranha at 357-4318.