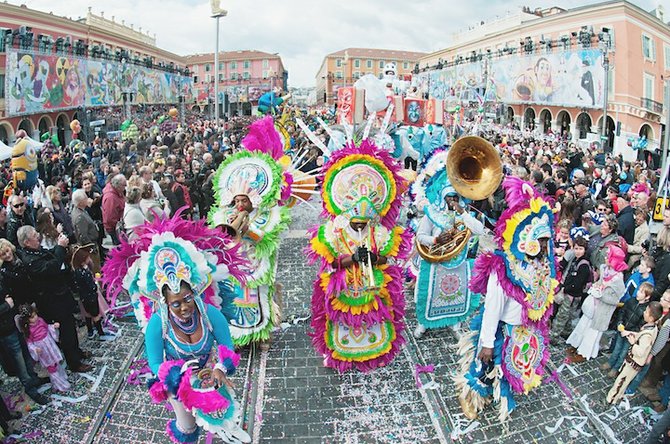 By ALESHA CADET
Tribune Features Reporter
acadet@tribunemedia.net
THEY are taking Bahamian culture around globe, and the Junkanoo Commandos say there is a real hunger out there for more of what the Bahamas has to offer.
The group of 40 professional Junkanoo that make up the Commandos from such top groups as the Valley Boys, the Shell Saxon Superstars, Roots and One Family.
They were formed in 2007 and have participated in tours and different carnivals and festivals around the world.
Angelique McKay, Junkanoo Commandos' project manager, told Tribune Entertainment that 12 members of the group are currently in Liverpool, UK, and last week participated in that city's annual Brouhaha International Festival. They will now travel to Scotland to participate in the Fife Carnival.
"We are often invited to different carnivals and festivals around the world. However, the thing is we are not able to get the word out there because we are doing everything on our own. Being able to raise funds is the immediate issue. The kind of publicity that we need, we are not able to do it on our own. We have an executive group of 10 and then general members," said Ms McKay.
She said the Commandos were also in England taking part in workshops involving costume construction, Junkanoo dance, cowbells, drums and music. The group of 12 left on July 3 and they are due back in the country on July 21.
She said the participants of the workshop will perform at the Edinburgh Festival Carnival to be held this Friday.
Ms McKay said the Junkanoo Commandos' international experience says a lot for Bahamian culture; it says that there is a market that appreciates the culture of the Bahamas internationally.
"That international market, especially Europe and the UK, is hungry for what it is that we have here in the Bahamas. A part of our vision is that we travel to these different festivals and entice people with our performances. We consider these performances to be a teaser for when you actually come to the Bahamas. We are like, 'Come and follow us for more'," said Ms McKay.
When asked about the first "Bahamian styled" Carnival to take place in May 2015, Ms McKay said she likes the idea that a new event is being planned and organised for Bahamians to be able to showcase their culture. However, she said she would appreciate it if it was named "Bahamas Junkanoo Carnival".
"I say that because due to the marketing that is going to go into the particular event, Junkanoo gets to be featured prominently in the marketing campaign. The Carnival Commission is saying that Junkanoo is going to be one of the key features of this overall carnival, so let's introduce the Junkanoo word from the start so people can have an idea that they are going to see something that is different from carnival but has similarities. We are hearing that people don't know Junkanoo, so let's begin to teach them about Junkanoo since we are investing in it now. I feel very strongly about it," she said.
Ms McKay believes some people may be against the idea of the new event because there are no elements of Bahamian culture in the wording of the event.
"The four events that they have identified features Bahamian culture components but the word 'carnival' without the inclusion of any aspect of Bahamian culture is what I feel has members within the cultural community and general Bahamian community in an uproar. The event itself is based, on what we are being told and once marketed correctly, will be a revenue booster for the country, but I say let's let the world know about Junkanoo from the onset and let's not sneak it up on them," she said.
In regards to the Junkanoo Commandos, Ms McKay said they are presently reviewing other international invitations for later on in the year.
"Our season would usually end in August because we tend to go into our separate groups to get ready for our parades in December. However, we are in the process of getting our very own home base," she said.