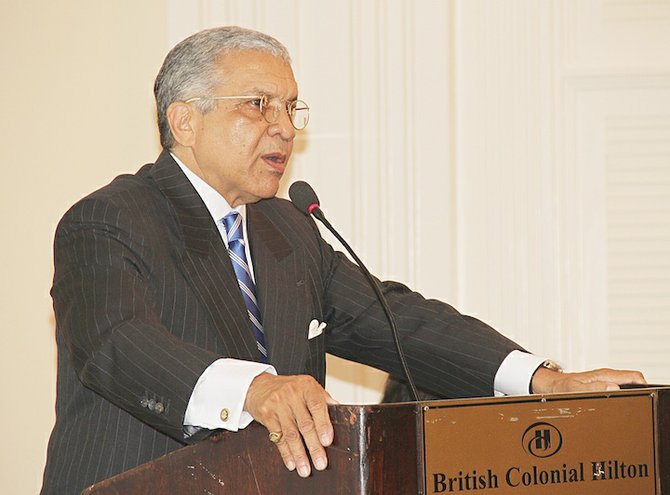 By RASHAD ROLLE
Tribune Staff Reporter
rrolle@tribunemedia.net
A TWO-day plea bargain conference began yesterday as part of the government's Swift Justice programme designed to strengthen the country's legal system.
By participating in the conference, legal professionals from around the country are expected to deepen their knowledge about plea agreements with a view toward increasing its use.
A plea deal is an agreement between a prosecutor and a defendant where the accused agrees to plead guilty to a particular charge in return for some concession.

Deputy Director of Public Prosecutions Garvin Gaskin told The Tribune that while the Office of the Attorney General wants to increase its use of plea bargains, emphasis will be placed on making sure the action is not abused.
"Plea agreements are not used as frequently as they should be and that's why this particular workshop is very timely," he said. "We would like for it to be frequently used but also appropriately 

used. I don't want a situation where we're just getting a bunch of guilty pleas, but some of them are given for undue reasons, whether it's pressure or something else. It must be appropriate.
"If (the person) is indeed guilty, the discount he gets for giving that guilty plea should be appropriate and the prosecution's evidence has to be worthy, so there is a whole combination of factors. Could you imagine a scenario where a defender, for instance, is pressured? That's inappropriate but when you have a situation where the accused intelligently assesses all of the circumstances and says I am willing to take this course, I think it's a good thing; I think all sides win."
In leading the conference, a team of four US experts, including a judge, prosecutor, defence attorney and senior programme manager, will provide an overview of the US legal framework and procedural mechanisms for successful plea bargaining systems.
A press statement about the conference said: "The team will assist in identifying best practices and challenges that will inform institutional policies, promote change where necessary and broaden approaches to the administration of justice. The discussion will also address legislative gaps and potential amendments to the existing legislation which have impeded the use of plea bargaining in the Bahamas."
The conference is hosted at the Hilton hotel.