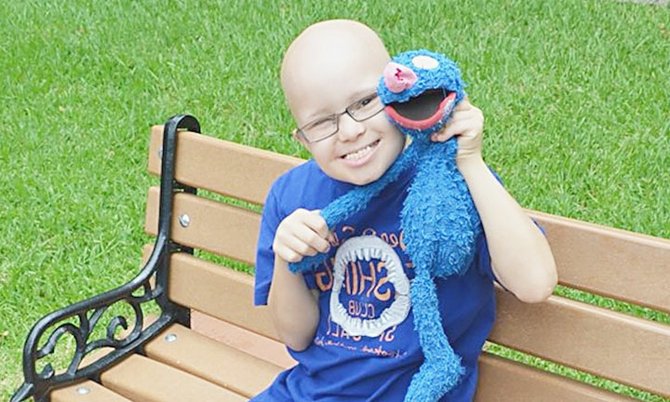 By JEFFARAH GIBSON
Tribune Features Writer
jgibson@tribunemedia.net
JUST when the Bethel family started to celebrate the remission of their son's cancer, nine-year-old Ty's leukaemia came back with a vengeance.
Unfortunately for Ty, who also has Down syndrome, the treatment he needs is not available in the Bahamas.
Subsequently, he and his family have now relocated to Miami, Florida, so that he can undergo extensive chemotherapy once again.
Meanwhile at home, close friends and relatives are offering their support to the Bethels during this difficult time.
Early last month a walk-a-thon was held to help defray Ty's medical expenses and his family's trip to Florida.
Ty is expected to remain in Miami for 12 months in order to undergo chemotherapy and other anti-cancer treatments.
Cheryl Johnson-Newell, president of the Bahamas Down Syndrome Association, has spearheaded efforts and organised numerous events in aid of Ty's medical fund.
Mrs Johnson-Newell has a long-standing connection with the Bethel family and said she has known Ty since he was a baby. The news of his leukaemia returning came as a complete shock to her.
She spoke to Tribune Health on behalf of his family.
"Ty was diagnosed with leukaemia when he was only three-and-a-half years old. After extensive treatment he was given a clean bill of health. Sadly, his cancer is back," she said.
"We celebrated last year when he was given a clean bill of health. I have been a part of (his parents) Mizpah and Tim's life for a very long time now and our families are very close. We were so sad to hear the news. It was a devastating experience for them both Tim and Mizpah. The problem with the leukaemia is that when it comes back it comes back very aggressive and so everything has to be done right way because it does not even give you a chance to the digest it," she said.
Though the road ahead is a long and difficult one for Ty, his family and friends are doing all they can so that his health can be restored. Mrs Johnson-Newell said there are a number of events that she along with Down Syndrome Association will organise to support the Bethels.
"The walk-a-thon that we held was a great success. When we organised it we thought it was a great way for the community to come together and rally support for the family. There were over 400 people who walked and they included family and friends and even those who did not even know Ty, but saw the need to support the cause and understand how important it is for people in the community to come together. I just thought that it was so gracious for people to support him. That was just really amazing and it made me feel very proud," she told Tribune Health.
Mrs Johnson-Newell said she will do all that she can to get people to support Ty's cause.
"I want people to know just how special Ty is. He is a sweet boy, he does not complain. He looks at the positive and he is just so special to anyone that knows him. Not many adults can go through what he has been through over the past years," she said.
"As Ty continues his treatment for leukaemia, we thank God for his big heart, unrelenting joy and childlike faith."
Donations can made to the Ty Medical Fund account at CIBC and First Caribbean International Bank, No. 201367118.